Indigenous food and wild edibles, on the whole, are packed with goodness. It's one of the many benefits of eating locally, and one that encourages me to keep on experimenting in the kitchen. It was Adelina Banda, my senior Zambian chef, who first brought my attention to mbwiila, and it was she who thought the legumes were similar in taste and texture to chickpeas, after they had been soaked and cooked.
Dried mbwiila beans, a kind-of native equivalent to black-eyed peas, are sold in all the markets of Livingstone. Mbwiila is a nitrogen-fixing legume that thrives in semi-arid soil. Its Latin name is Vigna subterranea, and it originates from West Africa. Mbwiila is the name given to the legume by the Tonga people, while in Zimbabwe it's referred to as nyimo. According to Wikipedia, other English names for the legume include the Bambara groundnut, Bambara-bean, Congo goober, earth pea, ground-bean, or hog-peanut.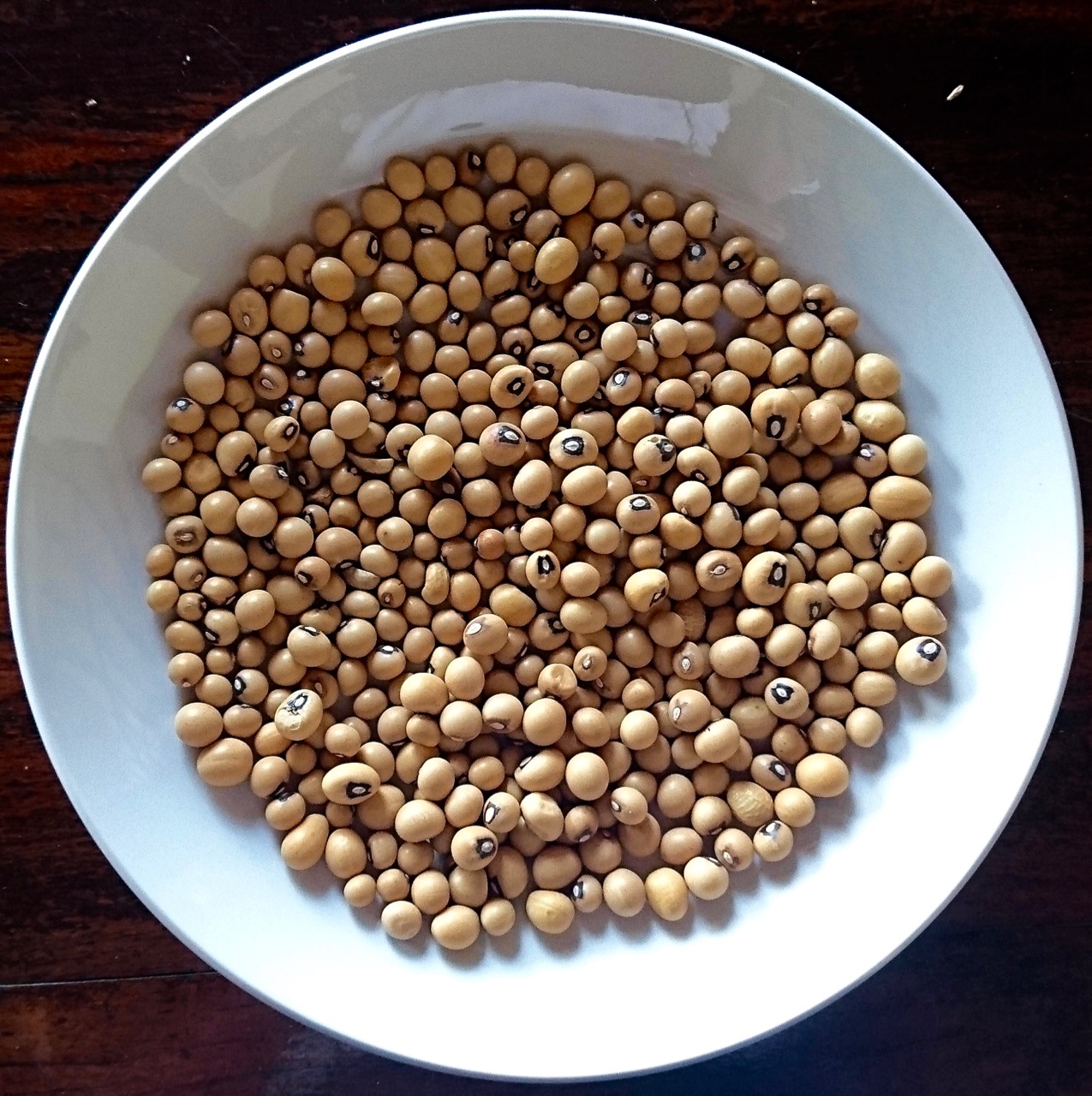 Mbwiila pods underground, like a peanut. When they are ripe, native Zambians prepare the beans by boiling them after being thoroughly dried in the sun. Mbwiila can also be eaten fresh, but in Livingstone they are mainly sold as dry beans, which are later soaked in water, skinned, and then boiled into a kind of porridge. When testing our mbwiila hummus recipe, we also soaked, skinned and boiled the beans until they were so soft they started breaking apart. After they had cooled a little, we blended the mbwiila into a white creamy paste. When I witnessed its silky texture, I knew I had uncovered something quite unique and special.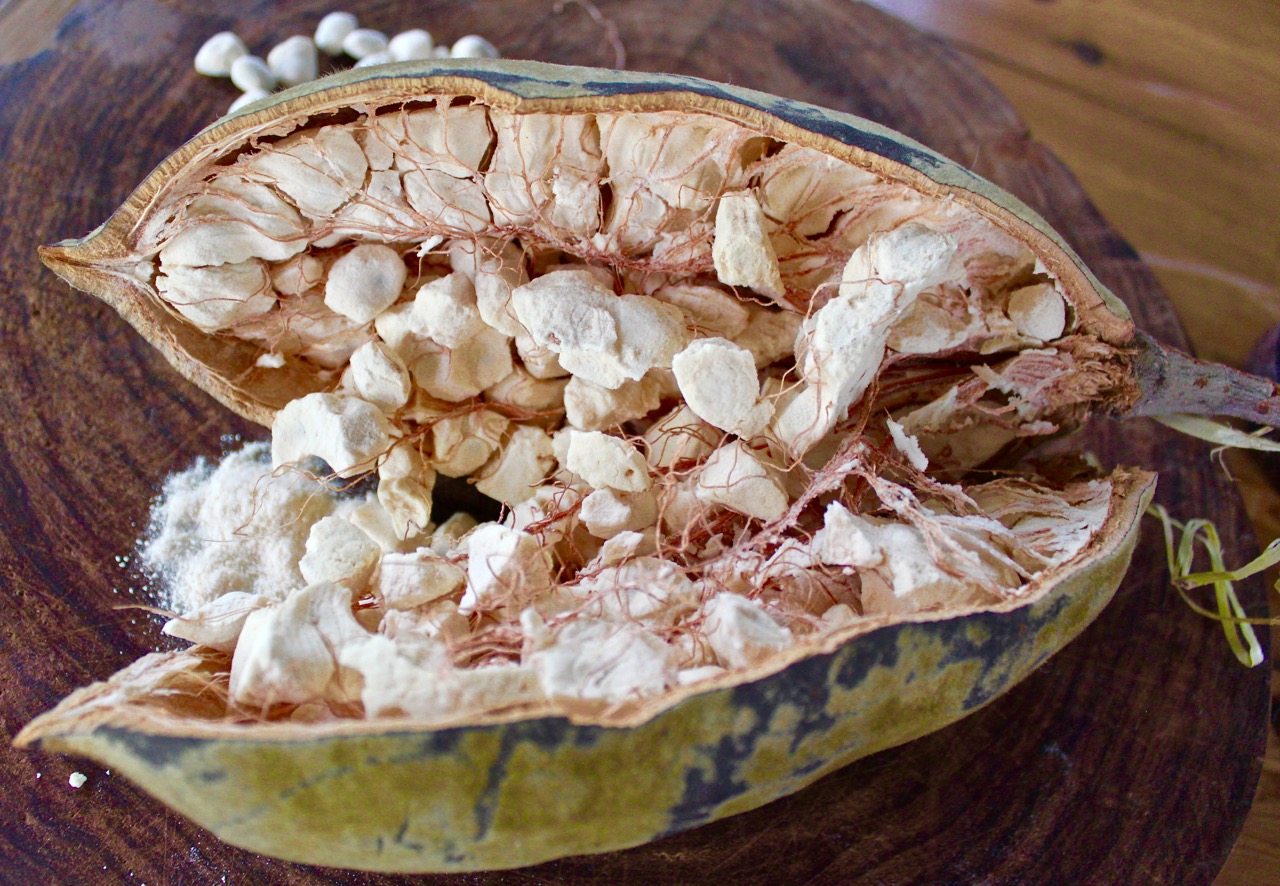 I have Yotam Ottolenghi to thank (again) for leading me to the Egyptian condiment, dukkah, made up of nuts, seeds, and spices. Dukkah provides texture and flavor to salads, dips, and roasted vegetables, and is particularly good with hummus. Ottolenghi's recipe for dukkah calls for nigella seeds, which I cannot buy here in Livingstone. Although nigella seeds have a hint of onion, oregano and pepper about them, I chose to add a touch of sour into the mix instead, which is why I used baobab powder as a substitute. Ottolenghi's dukkah recipe also calls for hazelnuts, which I adore, but they are expensive and often unavailable. I'd read that many different kinds of nuts can be substituted, and as I have ample access to wild mongongo nuts, I chose to use them alongside a smaller quantity of hazelnuts. The combination of the mbwiila hummus with my 'bush' dukkah was a real flavor sensation and is by far the most popular canapé at The Elephant Café to date.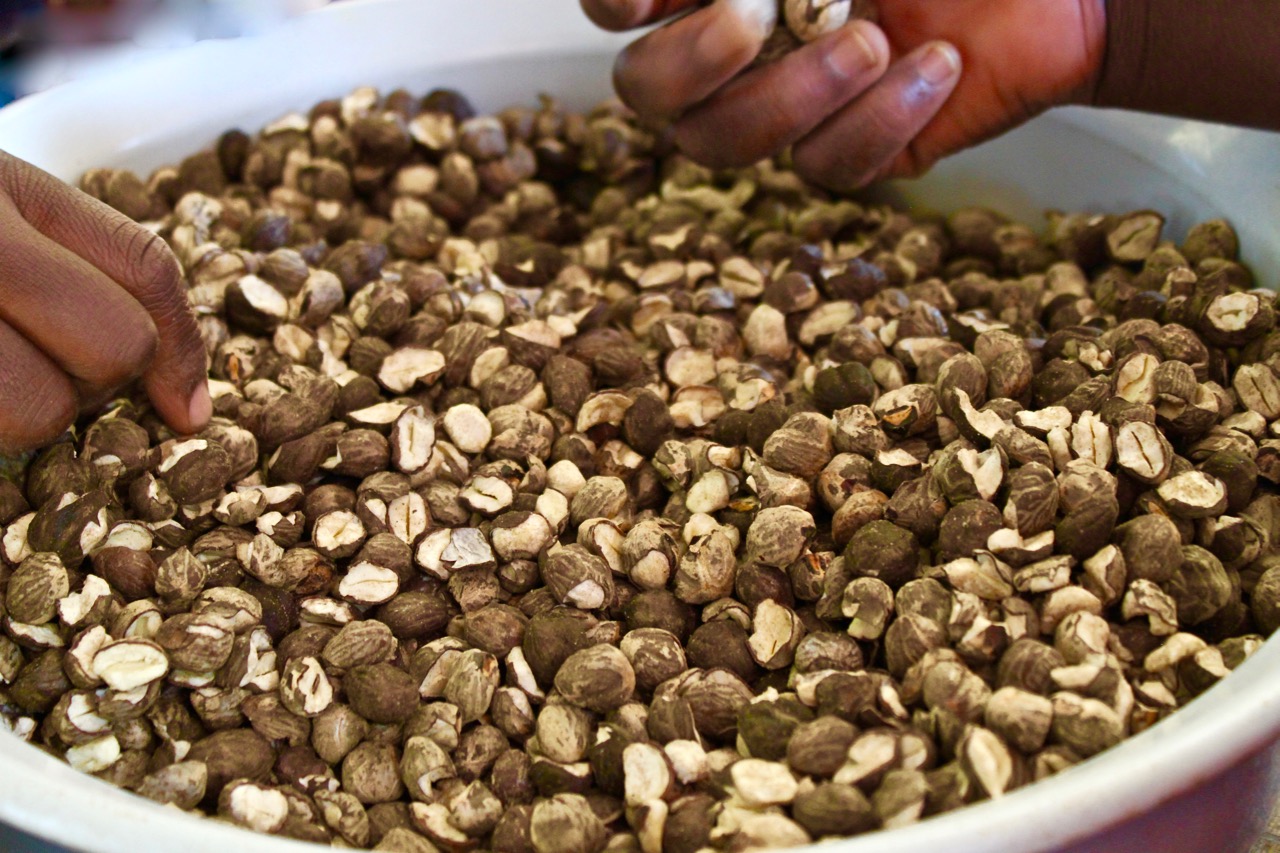 Mbwiila Hummus
Yield: about 12 servings
Ingredients:
600 grams mbwiila beans, soaked overnight, and skins peeled and discarded
275 grams tahini paste
4 tablespoons lemon juice
4 garlic cloves, crushed
1½ teaspoons salt, or to taste
100ml ice cold water

Method:
Place a saucepan on a high heat, add the shelled mbwiila beans, cover well with water and bring to the boil. Cook until the mbwiila beans start to break apart, about 30-40 minutes.
Drain the mbwiila beans and transfer them to a blender. Add the tahini paste, lemon juice, garlic and salt. Blend until the ingredients are well-combined. (The mixture is sticky therefore you will have to stop the machine and loosen it with a spatula from time-to-time.) Slowly drizzle in the iced water and allow it to mix until you get a very silky and creamy paste, about five minutes.
Transfer the mbwiila hummus into serving bowls, cover the surface with cling film and let it rest for at least 30 minutes. If not using straight away, refrigerate until needed. Make sure to take it out of the fridge at least an hour before serving.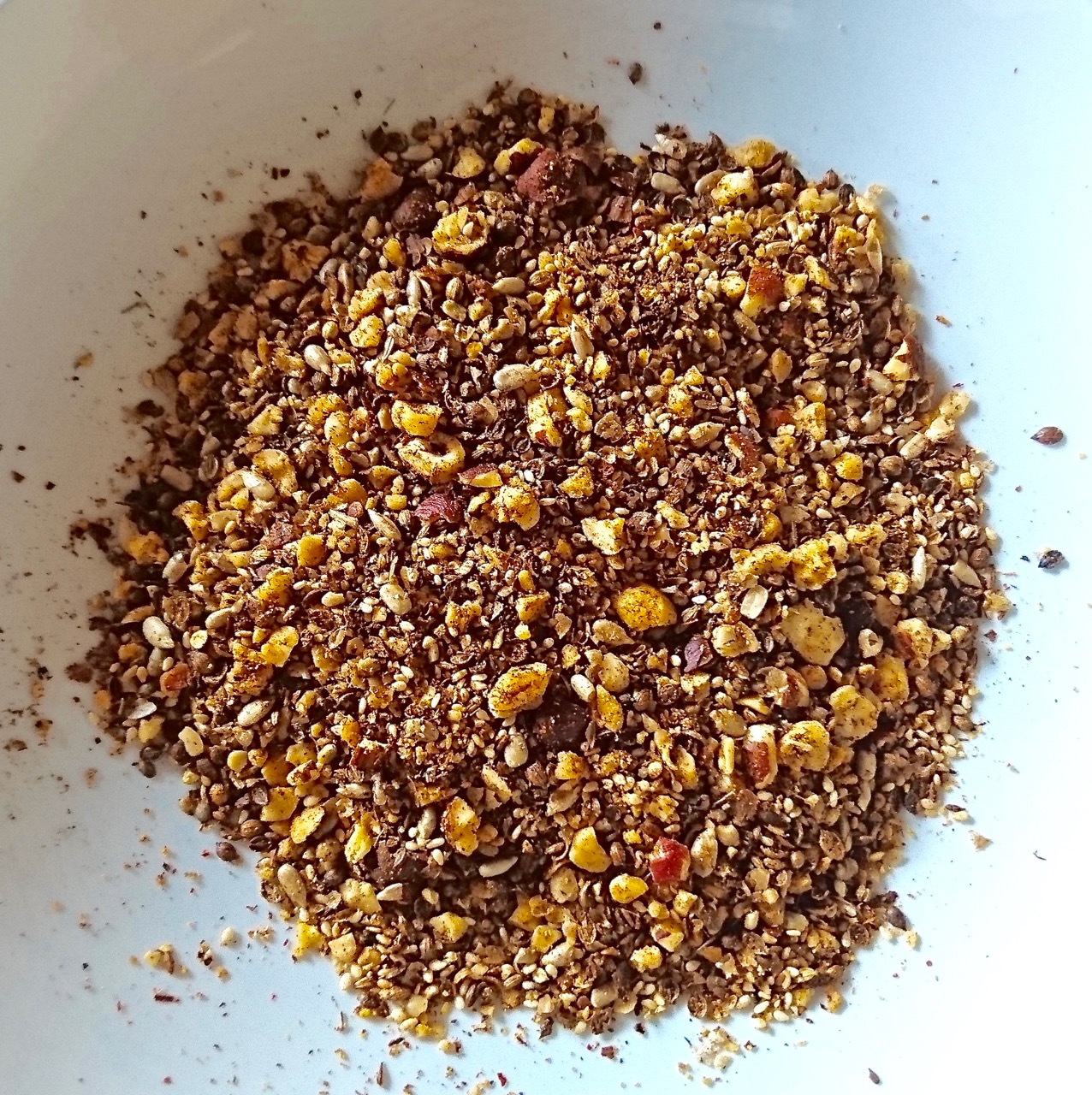 Mongongo Nut & Baobab Dukkah
Yield: about 1 cup
Note: By placing the nuts, seeds and spices over heat you are releasing the flavor, not cooking them. They are very easy to burn when dry-roasting, so watch them carefully. If it happens, turn down the heat, clean the pan, and start again.
Ingredients:
50 grams mongongo nuts
25 grams hazelnuts (or almonds)
2 tablespoons sunflower seeds
1 teaspoon fennel seeds
1 tablespoon cumin seeds
1 tablespoon dried green or white peppercorns
3 tablespoons coriander seeds
2 tablespoons sesame seeds
1 teaspoon baobab powder
1 teaspoon coarse salt
1 heaped teaspoon smoked paprika

Method:
Place a heavy-based frying pan over medium heat and leave for a couple of minutes. Pour in the fennel seeds and dry-roast for 30 seconds, being careful not to burn them. Add the cumin seeds and cook for another 30 seconds, or until they start to pop, then transfer to a small bowl and set aside.
Put the pan back on the heat and roast the peppercorns until they start to pop, about 30 seconds, and again, transfer to a separate bowl. Dry-roast the coriander seeds for up to a minute, until they start to pop, and pour into a third bowl.
Reduce the heat to low and cook the sunflower and sesame seeds together, tossing regularly, until the seeds turns golden. Remove from the pan and also set aside.
Next, dry-roast the mongongo and hazelnuts using the same pan. Remove and cool in a metal mixing bowl, and then using a pestle and mortar, crush coarsely. Add the cumin, the fennel seeds the coriander seeds, and the peppercorns, followed by the sunflower and sesame seeds. Continue to crush the mixture until all the flavors have released. Do not over-process. Mix in the baobab powder, salt and paprika, making sure the flavors are combined well.
Sprinkle on top of the hummus, and store the remainder in the refrigerator in an airtight container.