Our guava season has ended, and what a season it was. For the first time ever, hardly a guava was stung by pests and we had more fruit than we knew what to do with. We've frozen bagfuls, and turned a terrific amount into jelly and syrup. For my guava jelly recipe click here, bearing in mind that if its syrup you're after, cook the fruit for less time.
Guavas are another so-called "super fruit," primarily because of their overabundance of vitamin C and fiber. It's a recommended fruit for those following a low-glycemic load diet, like me, because its fructose is mitigated by the large amounts of fiber.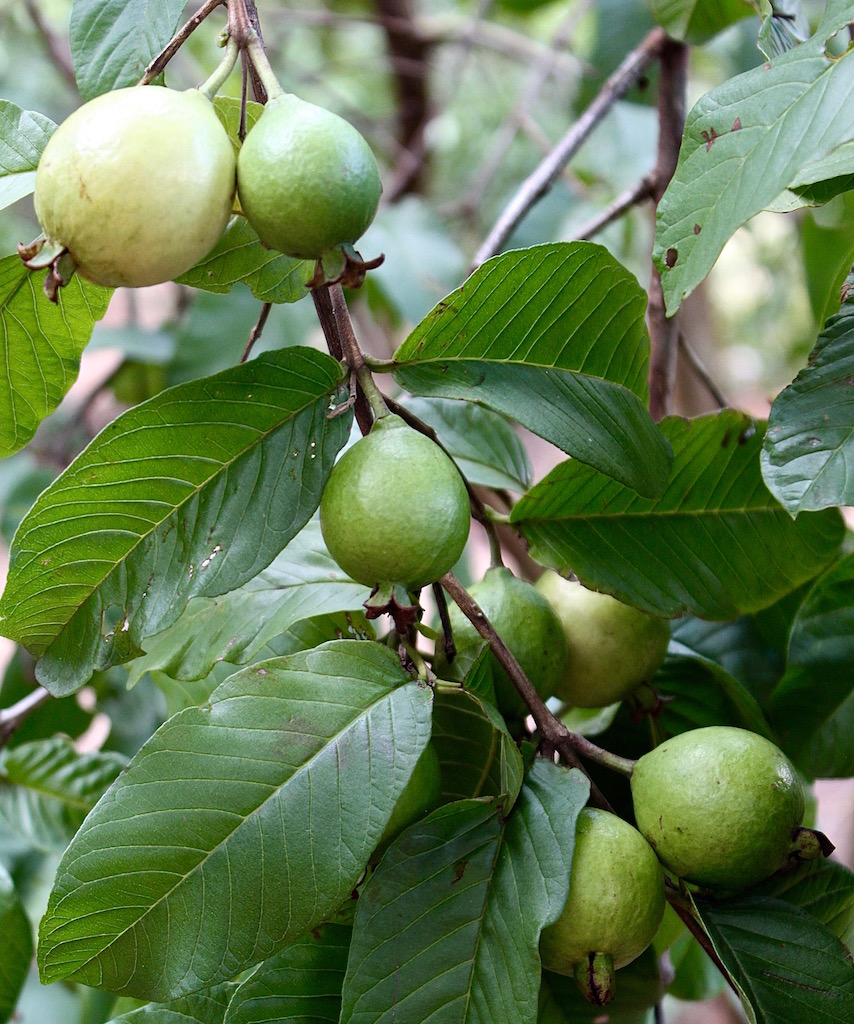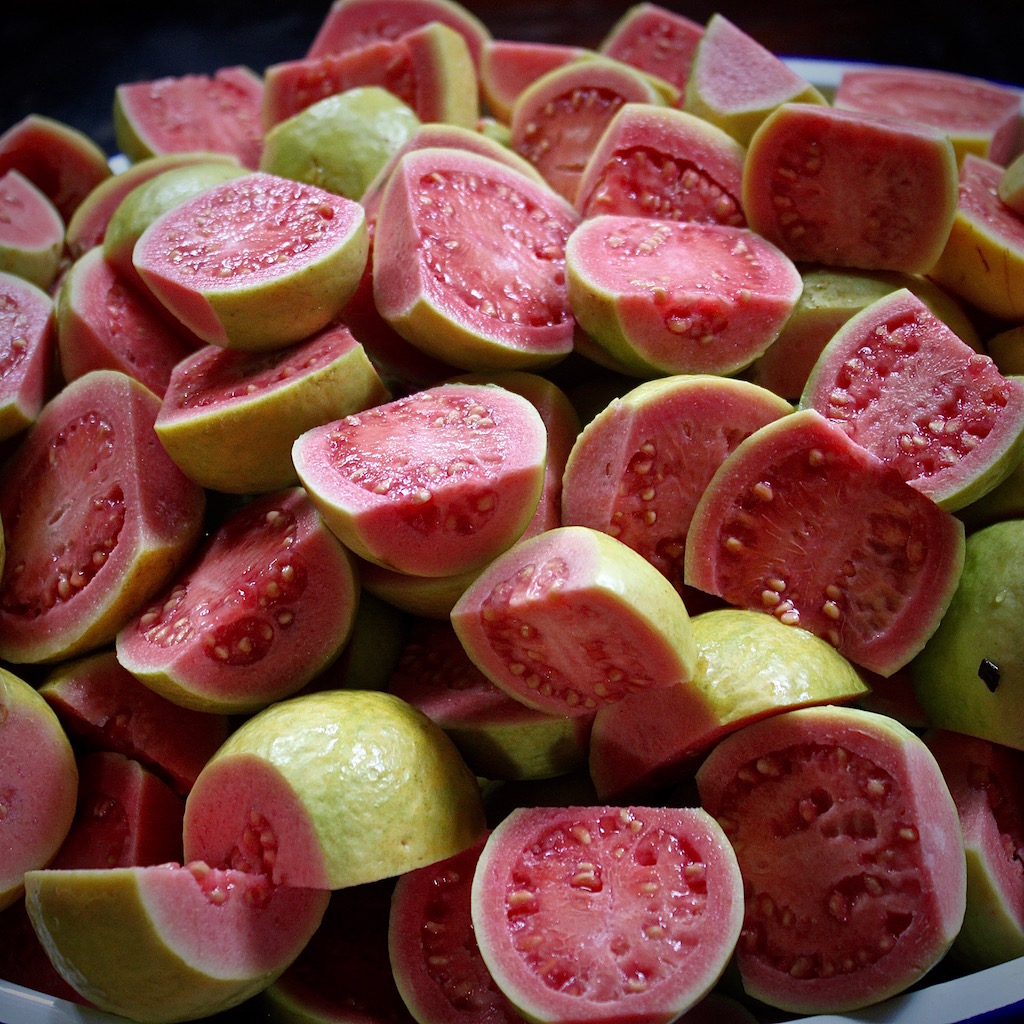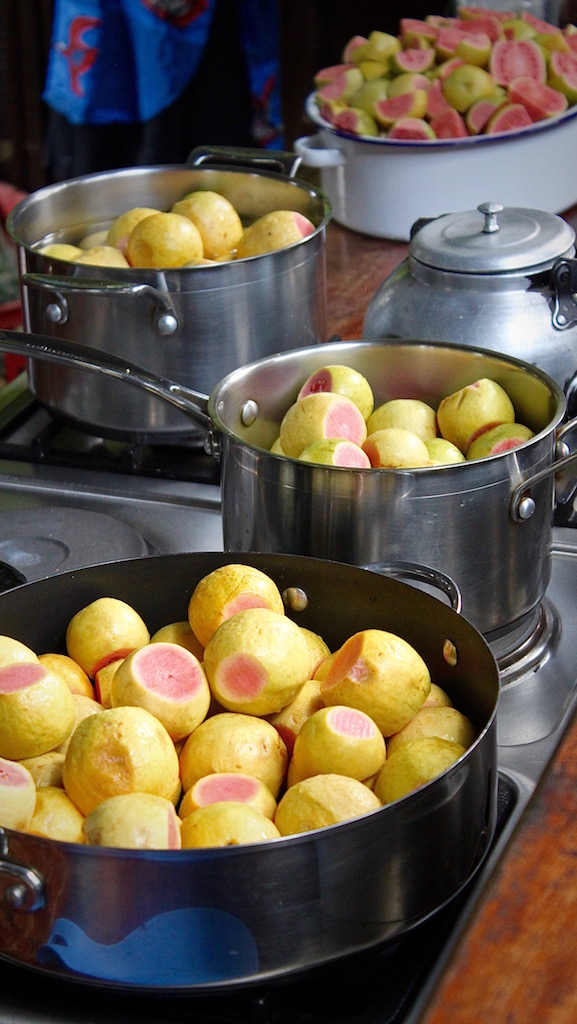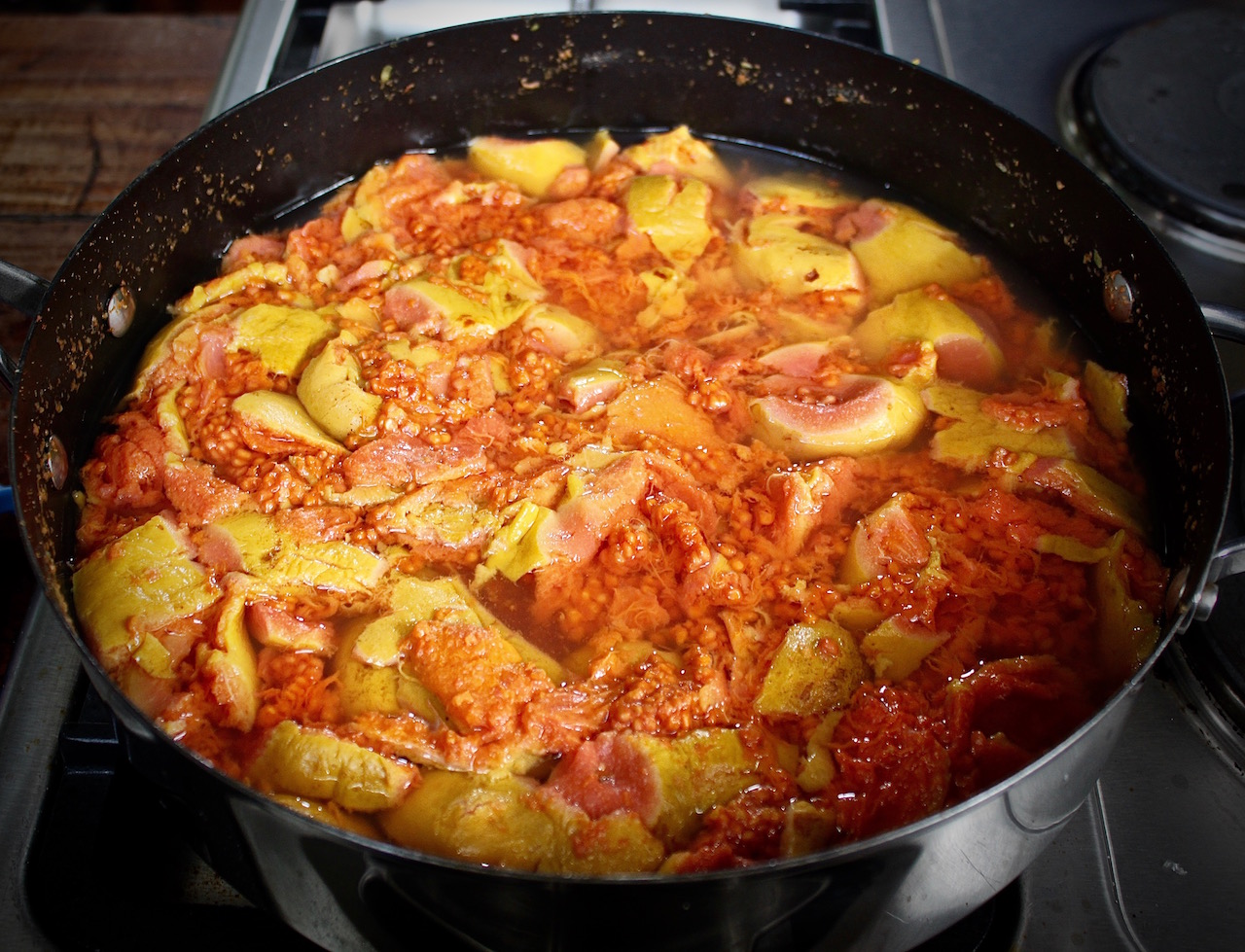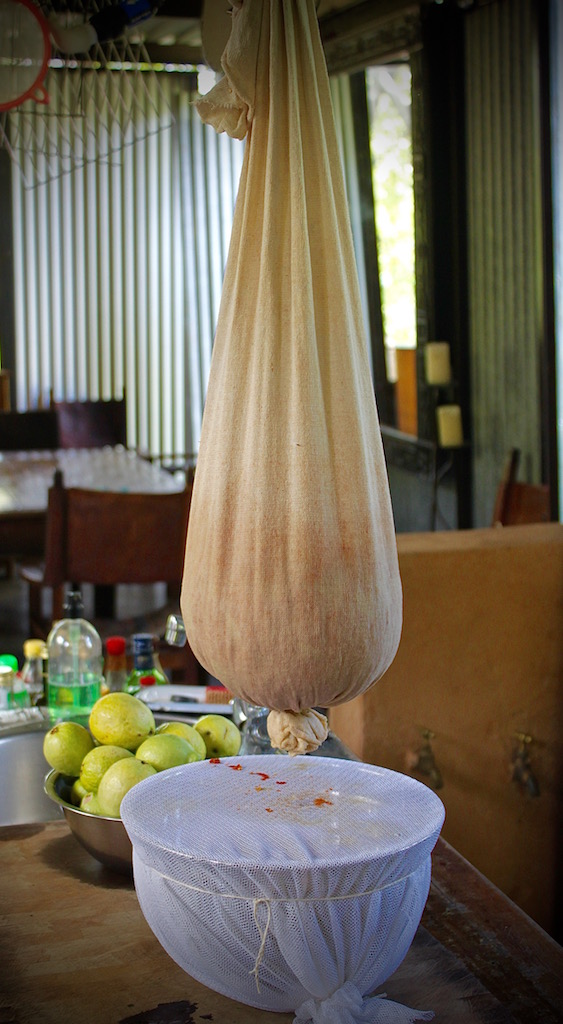 Here we eat guavas like apples because the skin is filled with goodness and nearly as tasty as the flesh. Fresh, guavas can always be found in our fruit salads, and once turned into jelly, are a great compliment to cheese, lamb and pork. Knowing this, I developed the recipe below confident that a syrup I'd made would meld well with Asian flavors like soya sauce, ginger, garlic and Thai basil. I wanted to develop this recipe using pork belly, but it's been unavailable in Livingstone for awhile. Instead, I used locally-produced pork chops, and the combination of flavors, alongside a colorful array of homegrown roasted vegetables, worked perfectly.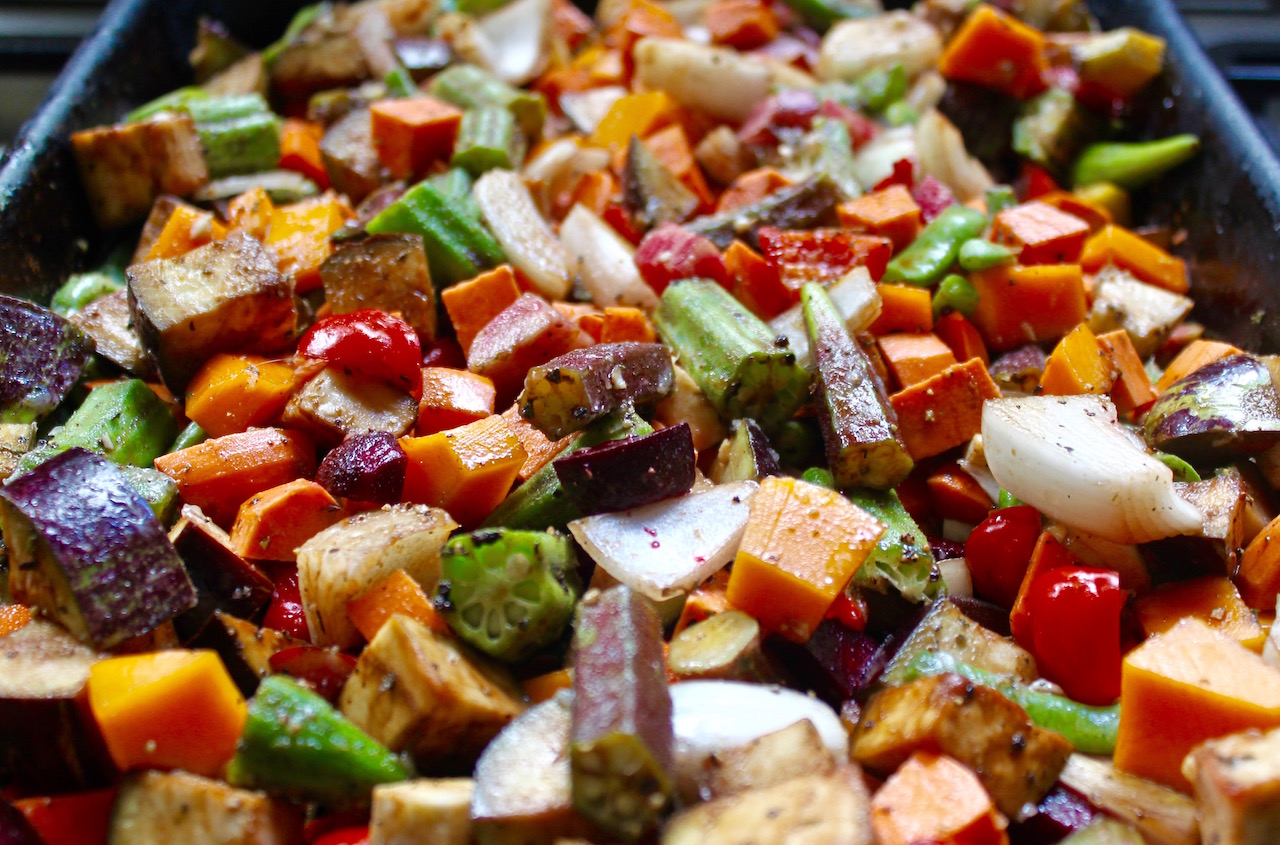 Guava-glazed Pork Chops with Homegrown Roasted Vegetables
Yield: 2-4 servings
Notes: If you can't find fresh guavas, canned will be a good substitute. Otherwise the juice of another tropical fruit like pineapple, or a wild hibiscus syrup, would work well with this recipe.
Ingredients:
1 cup guava syrup (click here for my guava jelly recipe, which is the same for the syrup, but with less cooking time)
1 red onion, neatly chopped
1 large clove garlic, neatly chopped
2 tablespoons minced fresh ginger
2 tablespoons soya sauce
2 tablespoons sweet sherry
1 large handful Thai basil, chopped + 1 tablespoon and a sprig for garnish
1 tablespoon coconut oil
4 pork chops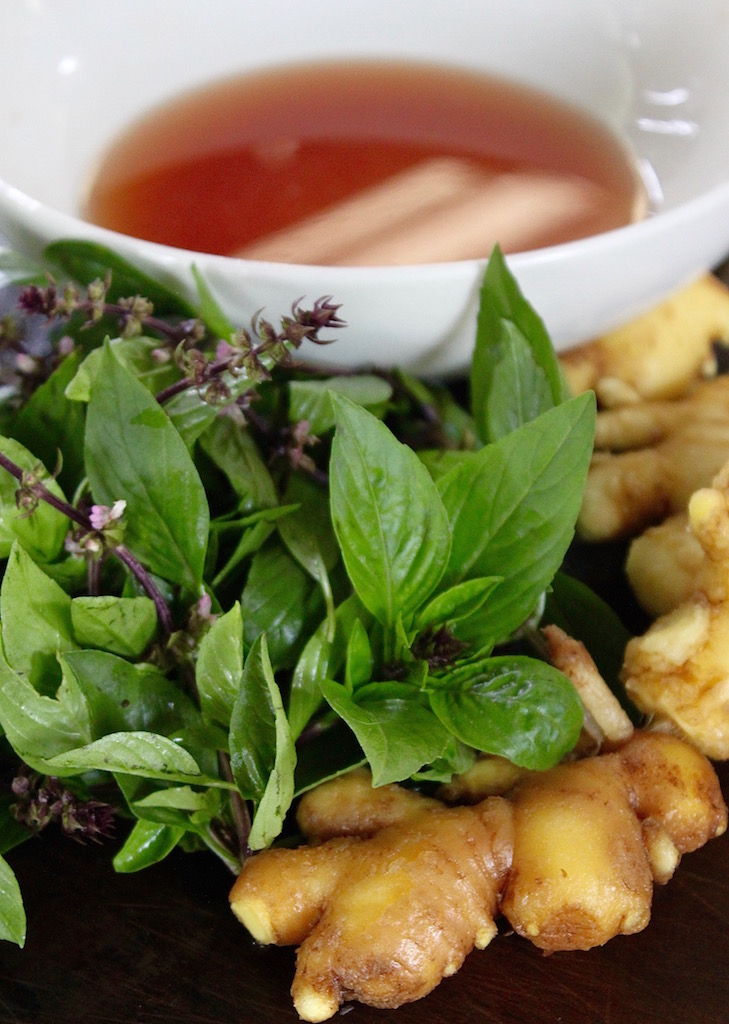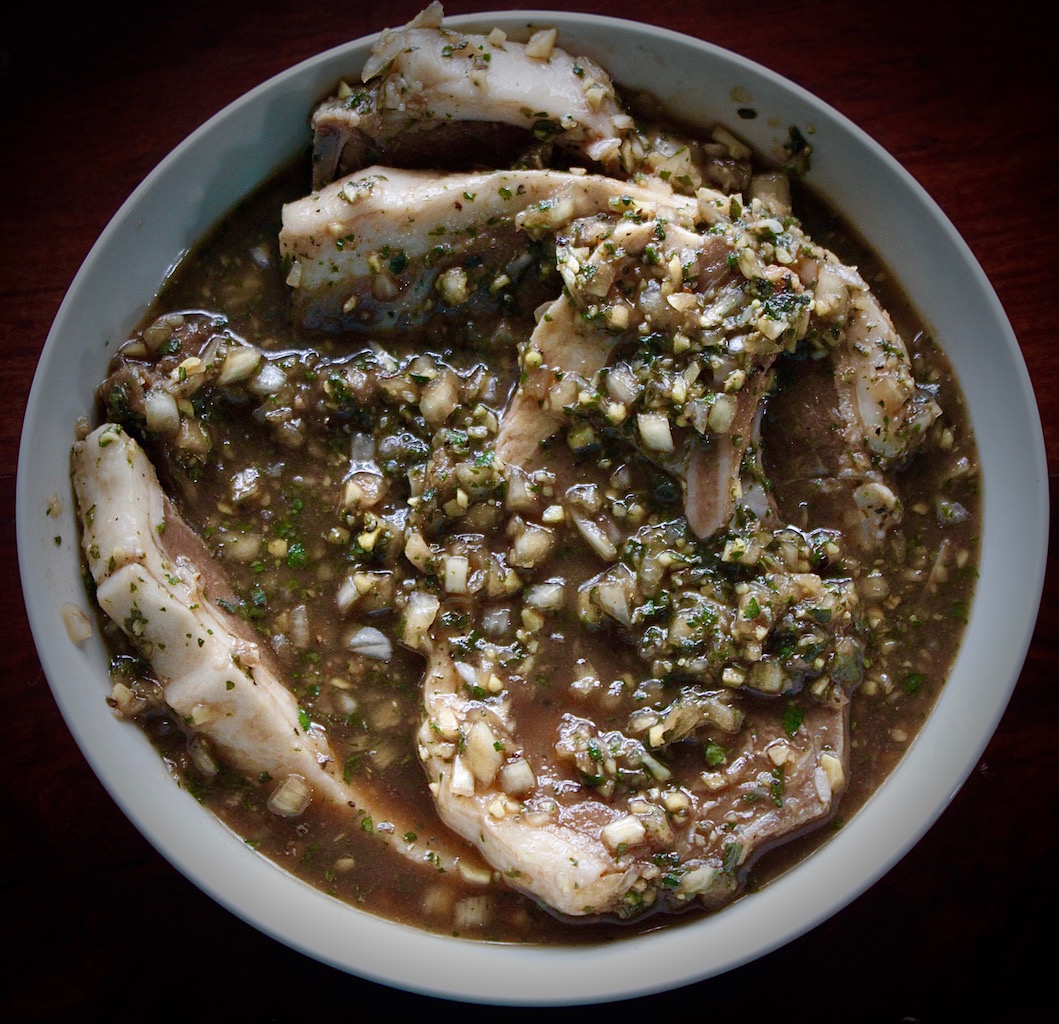 Method:
Mix together all the listed ingredients, except the last two, in a medium bowl and divide in half (for the marinade and the glaze). Set aside and refrigerate one half in a sealed container to be used at a later stage.
Put the pork chops and the remaining half of the marinade in a ziploc bag, making sure the chops are well covered. Leave in the refrigerator for at least four hours, or preferably overnight, turning the bag over from time-to-time.
When ready to cook the pork chops, remove from the refrigerator and bring them down to room temperature.
Preheat the oven to 200/400 degrees. In a small bowl whisk together 2 parts olive oil to 1 part balsamic vinegar with salt and freshly ground black pepper to taste. Cut up vegetables of your choice into bite-sized pieces, making sure they are uniform in order to cook evenly. (I used what we had available in our garden at the time, which included beetroot, green and red okra, sweet potatoes, aubergines, onions and garlic, all mixed together with a handful of chopped fresh oregano.)
Spread the vegetables out onto a baking tray, pour over the olive oil mixture, making sure everything is well-coated. Place on the middle rack in the oven, and cook until softened and browned, tossing the vegetables from time-to-time, about 40-45 minutes.
Heat the coconut oil in a cast iron skillet, or heavy-based frying pan, over a high heat. Remove the chops from the marinade, and flash-fry them to seal the meat and brown the fat, about 3-4 minutes on each side. Remove from the skillet and set aside.
Add the leftover marinade and the remaining half of the unused glaze to the skillet and bring to a roiling boil for about 3-5 minutes. Turn down the heat and simmer until the glaze has reduced by about a third, and thickened to a consistency that will coat the back of a spoon.
Return the pork chops to the skillet and cook in the glaze for a further 4 minutes. Sprinkle freshly chopped Thai basil over the chops, and serve immediately on top of a pile of roasted vegetables.