The baobab tree, with its ancient skin and root-like limbs, levitates above our landscape. To me it's the n'anga of trees. The magical medicine man. The traditional healer.
In the Kalahari Desert I used to work near Chapman's Baobab, which is said to be the third largest tree in Africa. Its time-worn canopy not only provided shelter for 19th century explorers like David Livingstone, its 25-meter-round trunk was used as a post office and depot for traders and travelers moving in and out of the interior.
The baobab is sacrosanct to the people of the Savannah. It is treasured for its longevity and its ability to survive long periods without water. The tree is also prized for its usefulness: its hollowed trunk is used for shelter and a sacred burial chamber; its fibrous bark used for cords, cloth and fishnets; its leaves eaten as a vegetable relish; its seeds a source for vegetable oil.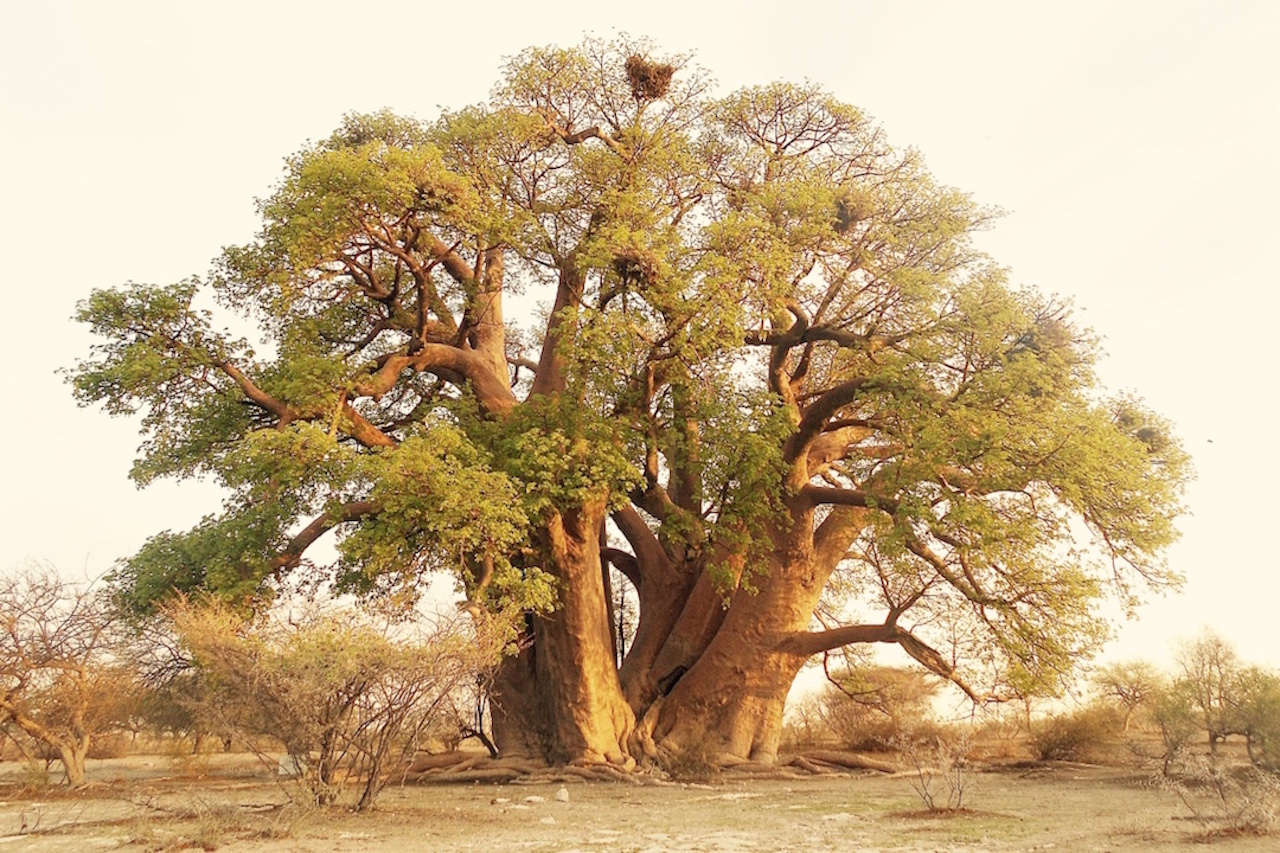 And then there's the baobab fruit. Contained in a velvet-skinned pod the size of a lady's clutch bag, powder-dusted seeds are held together like pieces of a puzzle in a netting of coral pink fibre. The fruit's fragrant powder has the texture of sherbet and is tart, like a lemon. I recently read that it has six times the amount of antioxidants found in blueberries, six times the amount of Vitamin C in an orange, and six times the amount of potassium in a banana. Its status as a "super fruit" has grown in recent years, especially in Europe after it was approved as a food ingredient in 2008, and then in the United States the following year.
It's long been thought that baobab fruit powder is cream of tartar. It is, in fact, a substitute for cream of tartar, which is a by-product of wine-making.
I've been longing to experiment with baobab fruit, and have waited all year to harvest from a tree growing near the turn-off to our farm. Harvesting them is no easy feat. The tree is huge, and most of the low-hanging fruit have already been eaten by elephants. Still, Adelina, through her network of helpers, brought me seven ripe fruit the other morning, and shortly after, our R&D department (recipe development) got to work.
Traditionally, baobab fruit powder hasn't really been used in anything other than drinks or porridge. But right from the start I had in mind to bake with the fruit powder: petit fours, a cake, cookies, a cream pie with a pecan nut crust. I also planned to use it together with rosewater, a gift from a friend, because I felt sure the rosewater's fragrance and flavor would offset the baobab fruit's jarring acidity.
While perusing ideas on the internet, an email from Heidi Swanson's 101 Cookbooks dropped into my inbox with a recipe for Rosewater Shortbread. I saw this as a sign, and looked no further. I adapted Heidi's Rosewater Shortbread recipe, adding the baobab powder, and replacing the pecan nuts with pistachio nuts. I don't grow roses here, so I was unable to add any dried rose petals to the dough. Instead I increased the amount of rosewater, but wished I'd had the petals. They would have added much-needed Christmas color to the cookies. As it was, I had to settle with using fresh violet-colored borage flowers as a garnish instead.
*Note – my recipe below includes dried rose petals because, having subsequently made the cookies with them, I concluded they are a much-needed ingredient.
Baobab & Rosewater Christmas Cookies
Yield: Between 20-30 cookies, depending on the shape and size.
Ingredients:
1 cup stoneground wholewheat flour
1 cup household flour
1/4 cup baobab fruit powder
1/2 cup pistachio nuts, roughly chopped and dry-roasted
1/4 cup dried rose petals + 1 tablespoon for garnish
1 tablespoon sesame seeds + 1 tablespoon for garnish
1/2 pound/ 250g butter, softened
1/2 cup caster sugar
1/4 teaspoon salt
3 teaspoons rosewater
1 tablespoon granulated sugar for garnish
 Method:
In a medium bowl, whisk together the wholewheat flour, household flour, baobab powder, pistachio nuts, rose petals, and sesame seeds. Set aside.
In a separate bowl, cream together the butter, sugar, salt and rosewater until pale and smooth.
Add the flour mixture, and gently combine until it turns into the consistency of dough. Scrape the dough into a ball in the bowl — it will feel a little sticky to the touch but should be manageable — and then flatten it with the back of your mixing spoon. Remove from the bowl into an airtight container, or cling wrap. Refrigerate for a couple of hours, or leave overnight (I chose the latter.)
Preheat the oven to 180/350 degrees, and line your baking trays (I used a silplat brushed with a little vegetable oil).
Remove the dough from the refrigerator. Dust a surface with a sprinkling of wholewheat flour, roll out the dough to your desired thickness, and cut into shapes. Collect up the leftover scraps of dough, shape into a patty, and roll out again until it's all used up.
Combine the sesame seeds and granulated sugar, and then sprinkle on top of each cookie.
Chill the cookies one last time in the freezer for 10 minutes.
Bake on the middle tray in the oven until golden, about 12 minutes. (The edges will color first, so watch them carefully.)
Remove from the oven, transfer to a baking rack, and cool completely.
Postscript:
On our recent holiday in Australia, I not only bought some dried rose petals, but also a cookie cutter in the shape of an elephant. I made another batch of cookies a couple of weeks ago, and wanted to share a photograph of the result. My original thought that the cookies would look and taste better with rose petals was correct.
March 31, 2015.