"As soon as you start the process of drying Nsumo fruit," Adelina Banda tells me on our drive back from Dambwa market in Livingstone on Wednesday, "it rains."
"What? No way!"
"It's true! Mrs. Dennis on the farm, who is a Tokaleya, told me the other day. She said that as soon as you start to boil the fruit before you put them out in the sun to dry, it rains."
I cast my mind back to the two occasions we'd previously worked with Nsumo fruit. As Adelina reminded me, each time we had put the fruit out in the sun to dry it had rained soon after. The second time it was so wet we were forced to finish drying them off in the oven.
"You're right. It did rain each time we dried the fruit," I said to Adelina, somewhat incredulous about this tidbit of local folklore. "We need to start drying these Nsumos tomorrow, and from then on in batches, over and over, so that the farm benefits through the whole growing season!" (The rain has been hesitant so far this year … held back, perhaps, by the much-talked-about formidable El Niño.)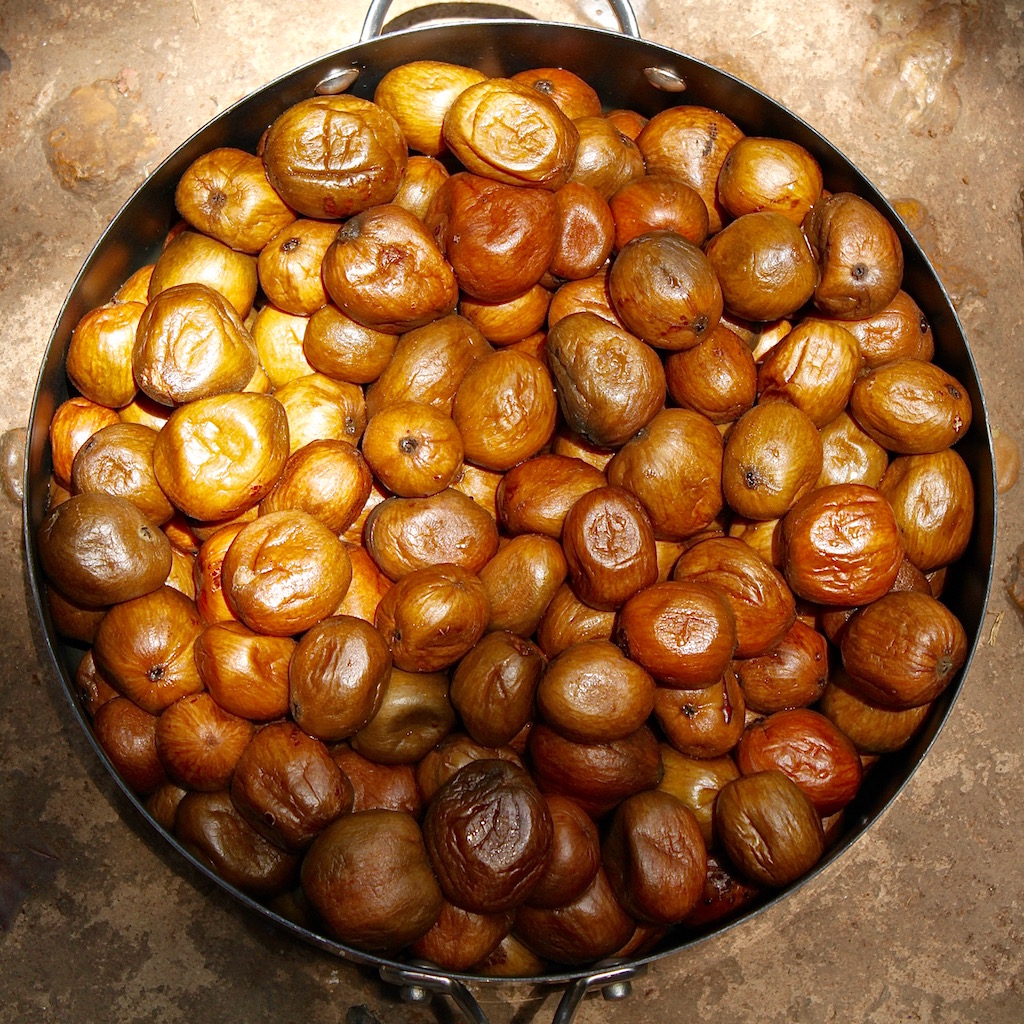 We'd bought around 10 kilograms of fresh Nsumo fruit that day in the market, along with six large baobab pods, two sticky parcels of musika, or tamarind, tied together with string, as well as a bag of mangoes that had looked so good we couldn't walk past them without buying some.
It's that time of year in Livingstone, the rainy season, when so many of our native trees have dropped their flowers in favor of fruit, allowing for much experimenting in our kitchen's R&D department with all that we know is edible.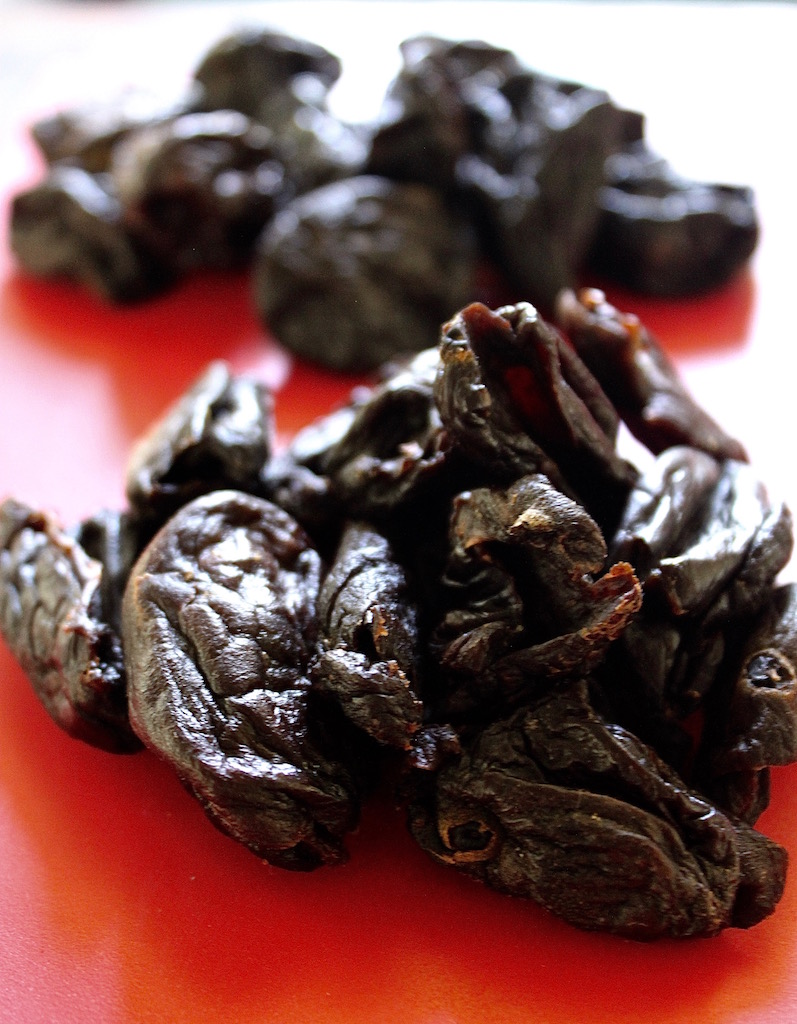 It was Adelina who first brought my attention to Nsumo fruit. She gave us a small bag following her weekend in Livingstone, and the taste was so good it set my imagination on fire. Like a cross between a plum and an apple, the Nsumo fruit has lots of flesh, which is not common among wild desert fruit. Most have seeds so large, working with them in the kitchen is often a real challenge.
What was challenging about the Nsumo fruit was finding any information on it. Adelina, who is chiNanja from Zambia's Eastern Province, told me that while the fruit was called Nsumo by the local Tonga people, the tree itself was called Munsumo. Then I learned that the Lozi people from further upriver in Western Province called the fruit Mumonsomusa. In each instance I could find no further information about it anywhere, so I turned to southern Africa's foremost tree expert, Meg Coates-Palgrave, whose course I'd attended earlier this year.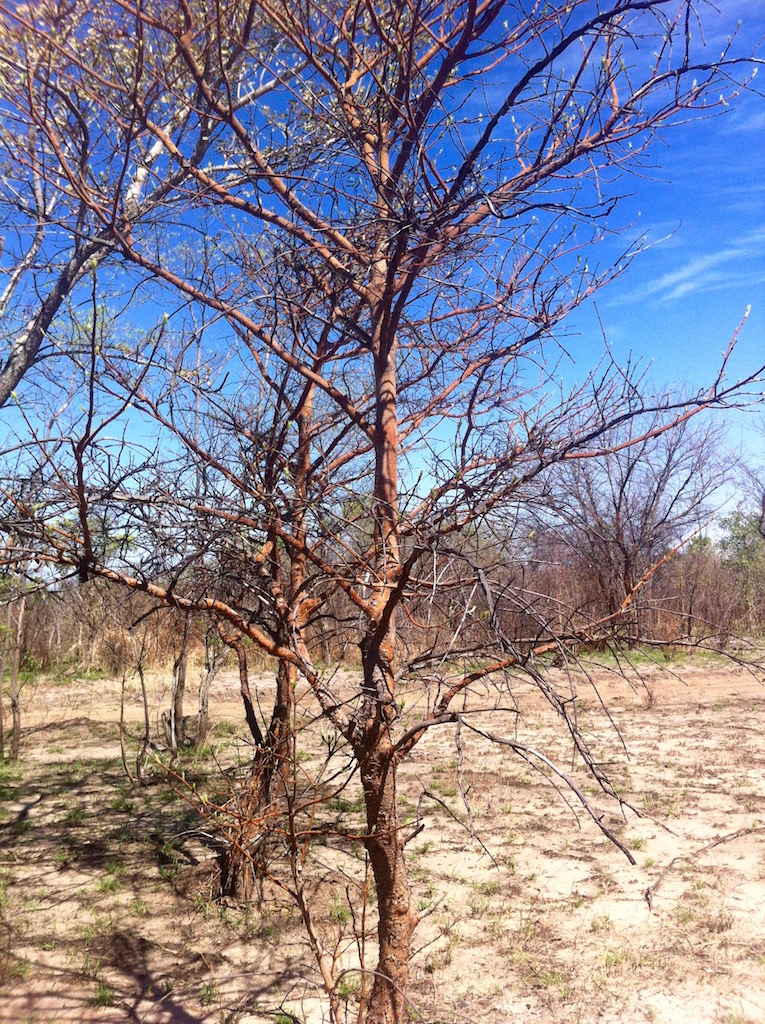 Hello Meg,
I was wondering if you could help me identify a tree that, among the Tonga people, is known as MUNSUMO. … I have attached a photograph of the fruit, which the Tonga call NSUMO. They are delicious … and I plan on using them in all sorts of recipes. They taste a lot like prunes, thus I'm busy developing a Wild Christmas Cake!
I cannot find anything about the tree/fruit online, so decided to contact the expert. 
Thanks so much for any help you can give me.
Annabel x
Not long after, Meg wrote back:
Hello Annabel,
Fortunately that was a nice easy question. … It is Vangueriopsis lanciflora, which we call the false wild-medlar. Interesting to see the fruit in such quantity. If I remember rightly you have much bigger trees in your part of the world and they are obviously fruiting prolifically.
With this name, best wishes for a successful Wild Christmas cake!
Meg x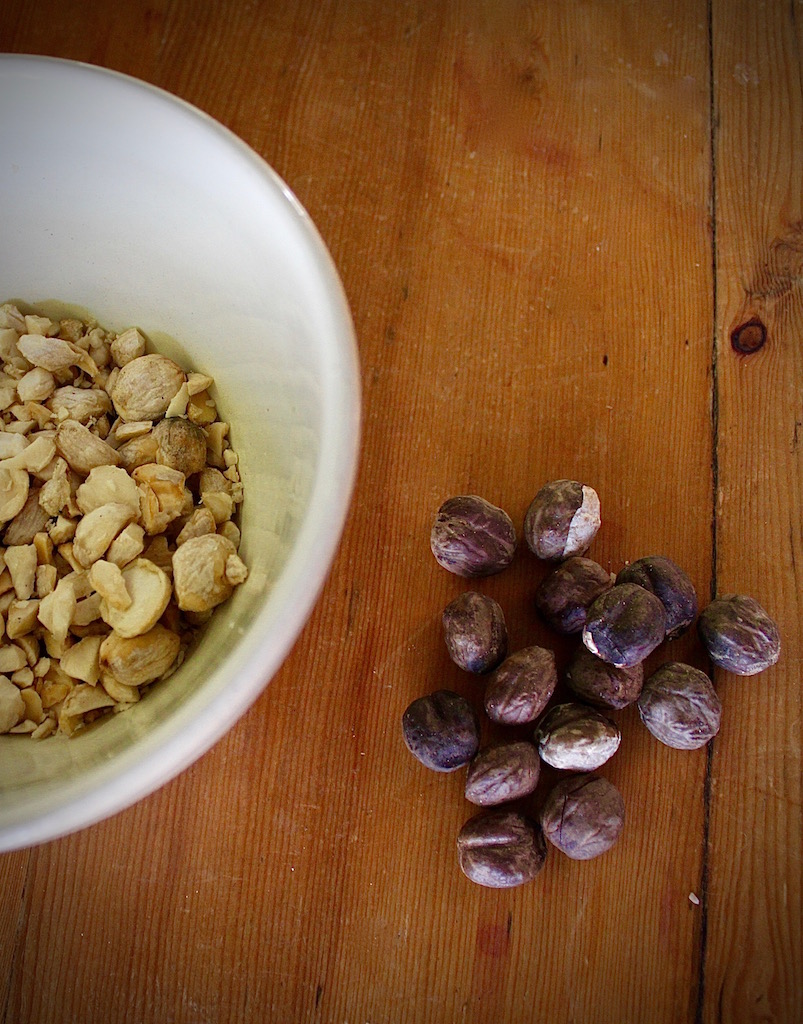 Here it is, the first, I hope, of many tasty recipes made with Nsumo fruit: a gluten-free, moist, and decadent cake made, in part, with local wild edibles and eggs taken straight from the chicken coop. Yum!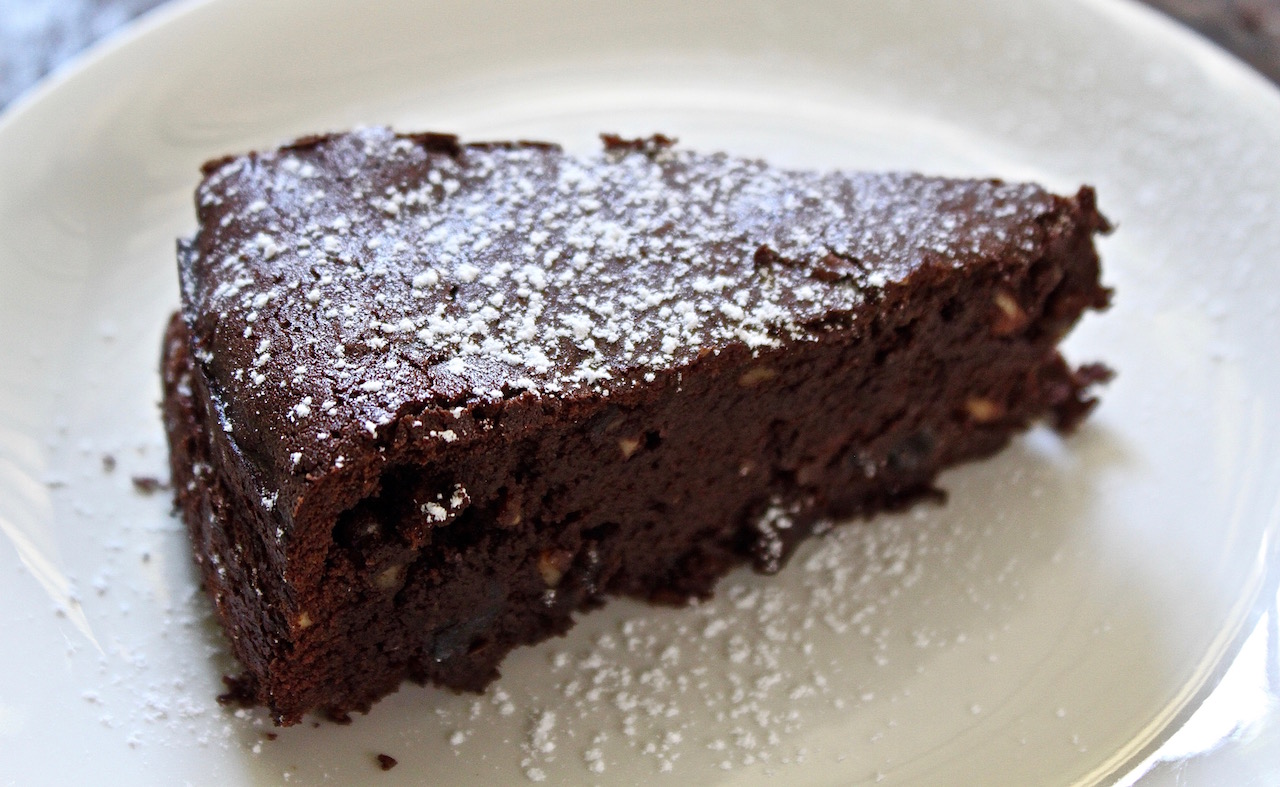 WILD NSUMO & MONGONGO NUT CHOCOLATE CHRISTMAS CAKE – inspired by David Lebovitz's Chocolate-Prune Cake.
Yield: 8-10 servings
Notes: Any dark dried fruit would work with this recipe, as would any soft flavorful nut. This cake can be made days in advance, or frozen for at least a couple of months.

Ingredients:
For the Nsumo fruit
170 grams/ 6 ounces pitted dried Nsumo fruit, roughly chopped into small pieces
1/2 cup rum or brandy
1 tablespoon sugar

For the cake
1 tablespoon cocoa
170 grams/ 6 ounces butter + a little more to grease the cake tin
340 grams/12 ounces dark chocolate, broken into pieces
100 grams/3.6 ounces Mongongo nuts, dry-roasted
6 eggs, separated
pinch of salt
3 tablespoons caster sugar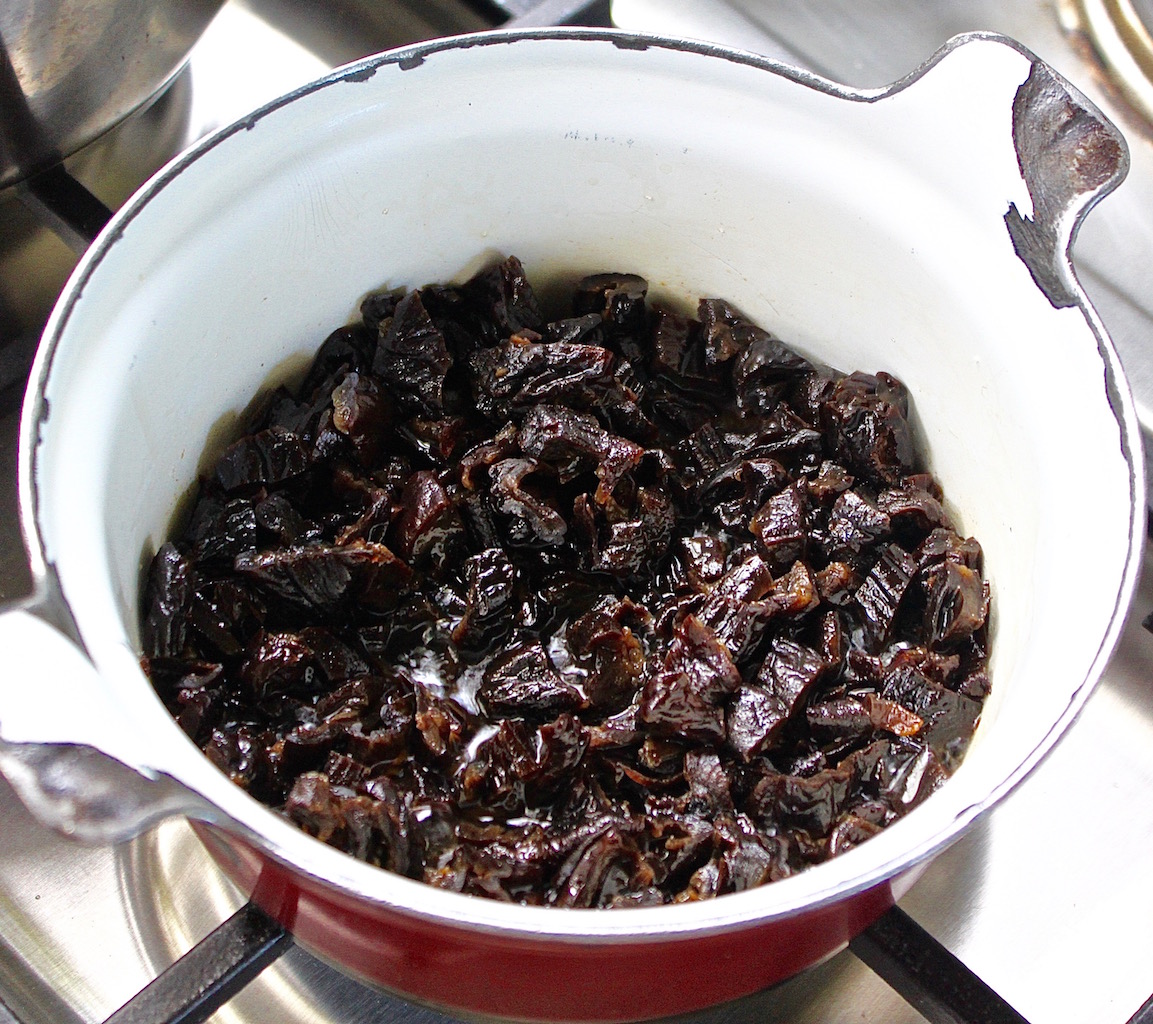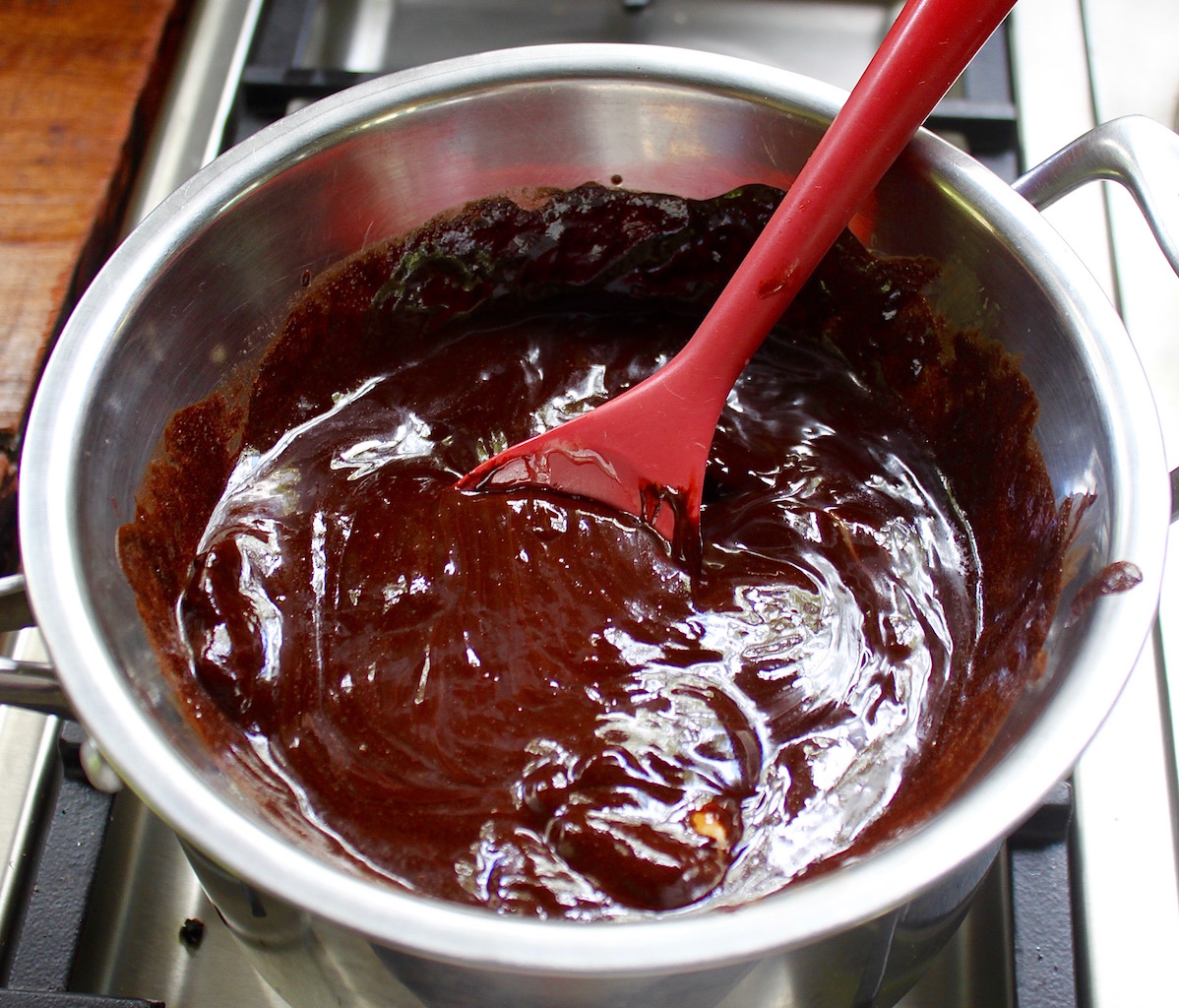 Method:
Preheat the oven to 165/325 degrees. Butter a 9-inch (23cm) springform pan, and dust the inside with the cocoa powder.
In a small saucepan, bring the Nsumo fruit, the rum, and the tablespoon of sugar to the boil. Turn down the heat and simmer until most of the alcohol is absorbed into the fruit, about 5 minutes. Remove from heat, set aside, and cool.
In a large metal bowl set over a pan of simmering water—making sure the bowl does not touch the water—melt the chocolate and butter together, stirring until smooth. Remove from heat and stir in the Nsumo fruit, Mongongo nuts, and any liquid left in the pan.
Whisk the separated egg yolks, and stir them into the hot chocolate mixture.
In a separate metal bowl, add the salt to the egg whites and beat until there are soft peaks. With your electric hand mixer running, incorporate the caster sugar one tablespoon at a time until the egg whites hold their shape.
Gently fold one-third of the beaten egg whites into the chocolate mixture until well-combined. Fold in the rest, making sure no white is visible. (When folding, use a metal spoon and gently work it in a figure of eight through the mixture.)
Bake the cake for 35-40 minutes. The cake should be set but soft to the touch in the center. Cool thoroughly, and when ready to serve run a palette knife around the edge to loosen from the pan. Remove the springform mold, and slice carefully.
Serve with fresh cream, an ice cream, or a wild berry compote.