The meaning of marriage begins in the giving of words. So said Wendell Berry, one of the wisest users of words I've ever read, who also happens to be a farmer, like Chris. "We cannot join ourselves to one another without giving our word," Berry advises, "and this must be an unconditional giving, for in joining ourselves to one another we join ourselves to the unknown. … Marriage rests upon the immutable givens that compose it: words, bodies, characters, histories, places. Some wishes cannot succeed; some victories cannot be won; some loneliness is incorrigible.  But there is relief and freedom in knowing what is real; these givens come to us out of the perennial reality of the world, like the terrain we live on. One does not care for this ground to make it a different place, or to make it perfect, but to make it inhabitable and to make it better.  …"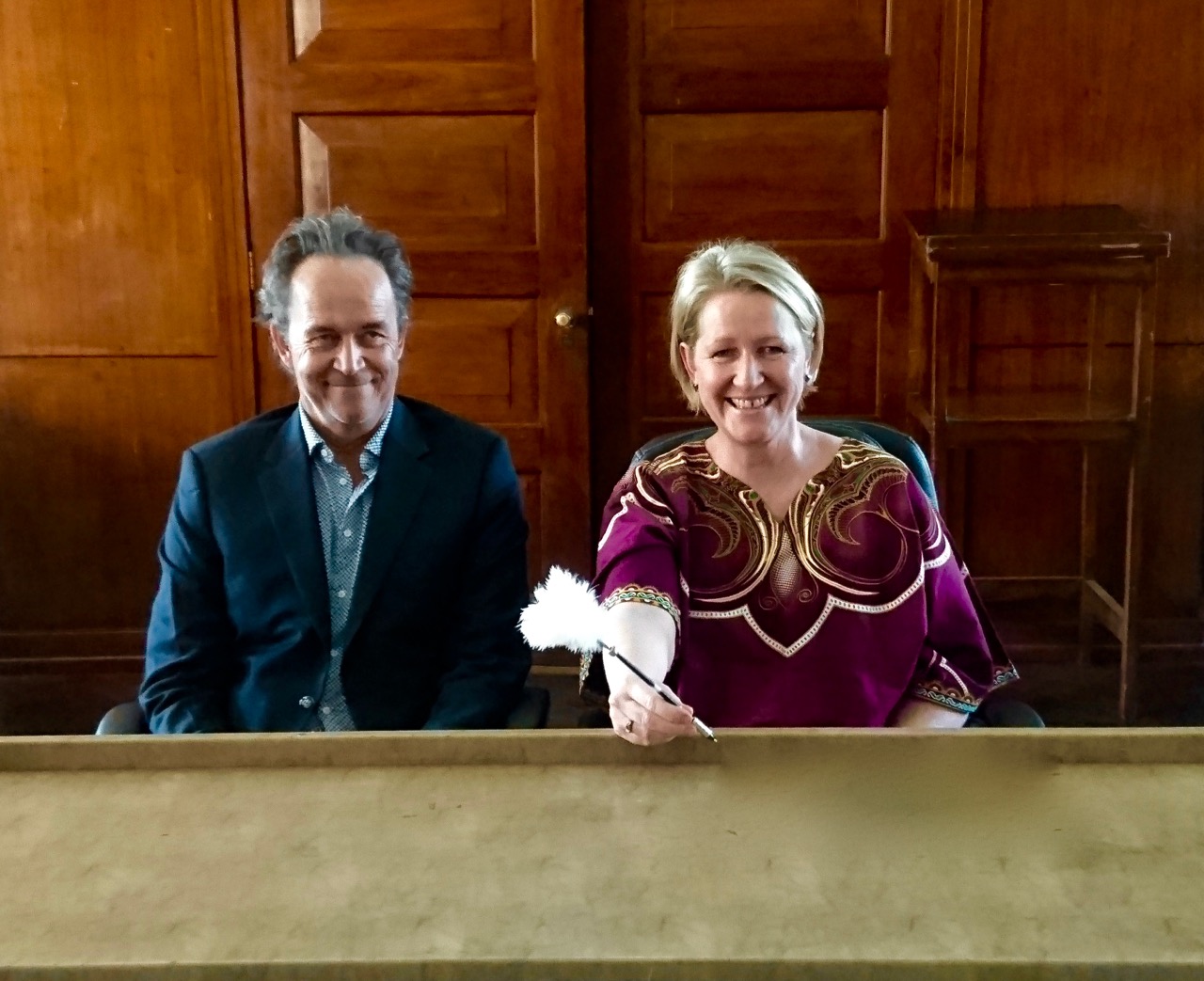 Words, and the terrain we live on, have always really mattered to Chris and me. And as Berry so rightly reminds us, we decided to marry not to move into a different place so much as to make where we are even more inhabitable and better. To ground ourselves here, in Zambia, a country that gave us a second chance — Chris after he lost his farm in Zimbabwe in 2002; me after losing everything in the United States a decade later — and provided a safe space for us to grow together.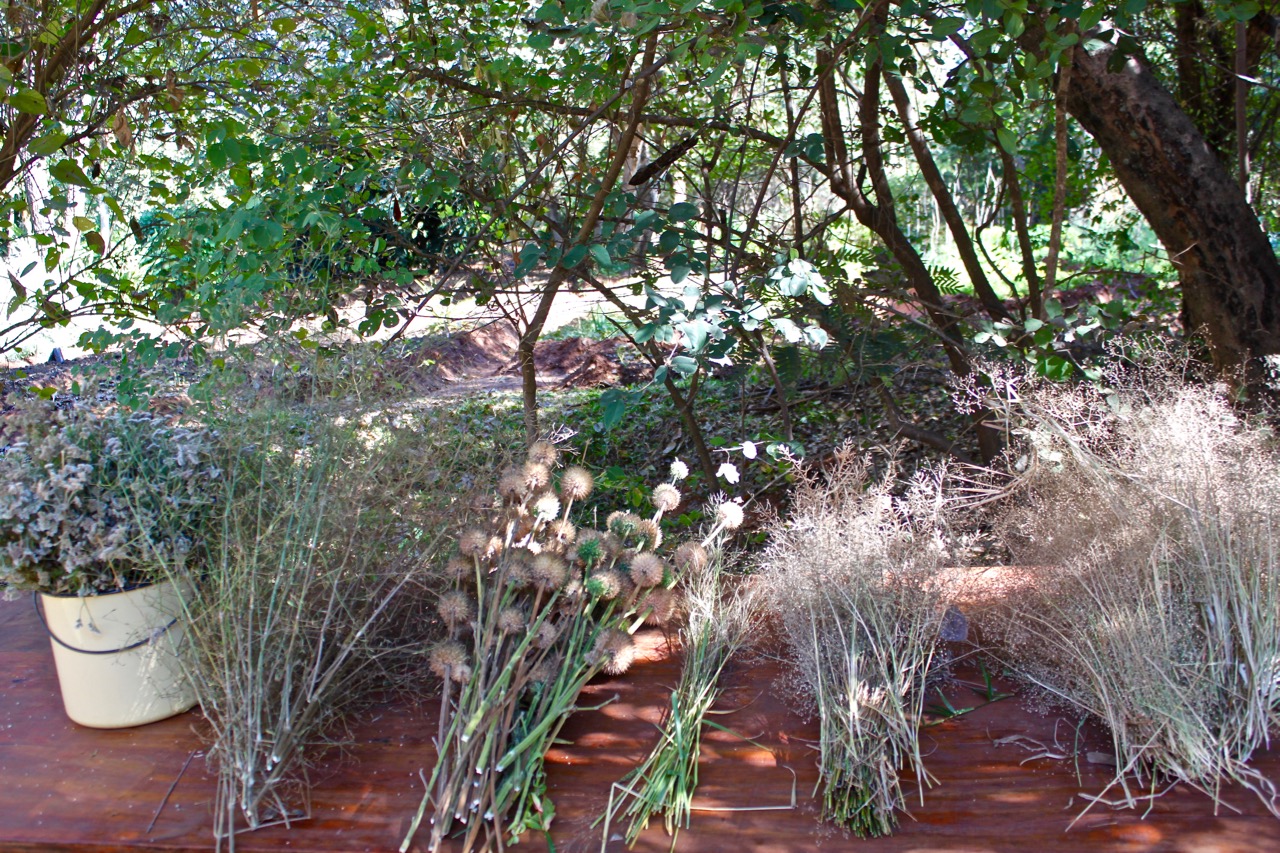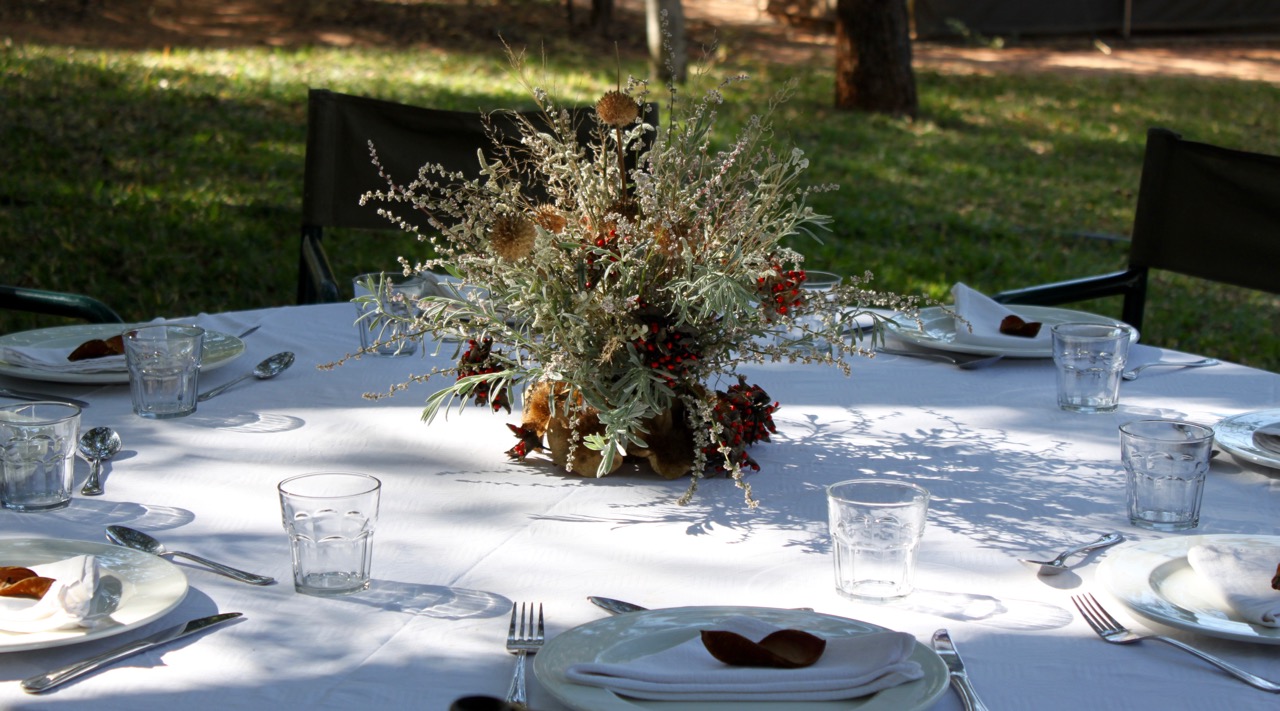 Nothing has changed yet everything has changed. We're deeper into our togetherness, deeper into our own wilderness. Marriage allows this. It reels you in and sets you free. Chris has no desire to colonize my wilderness, as I have no desire to colonize his. We're two different territories with two different habitats, interdepending via our mycelium of affection, respect, support and nourishment that links us, that holds us together, that keeps us healthy.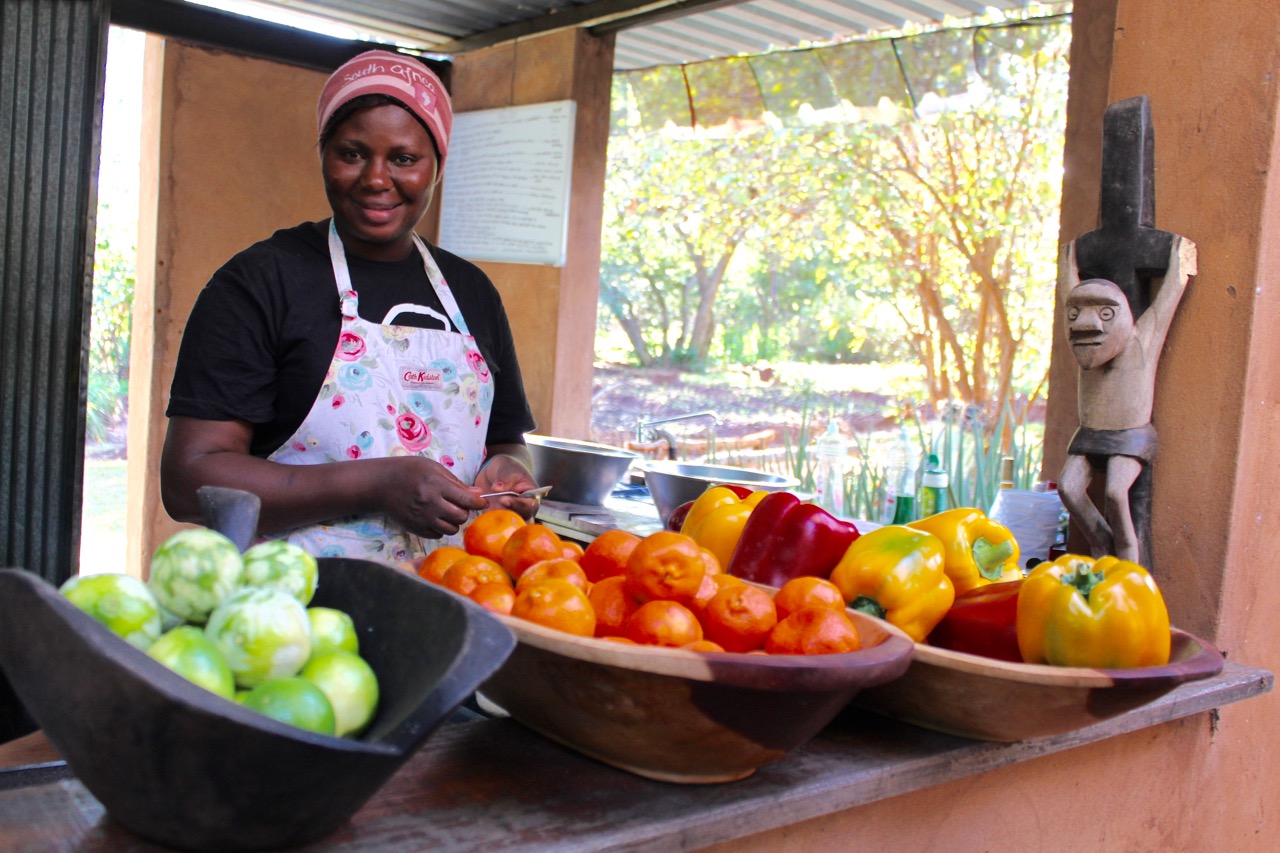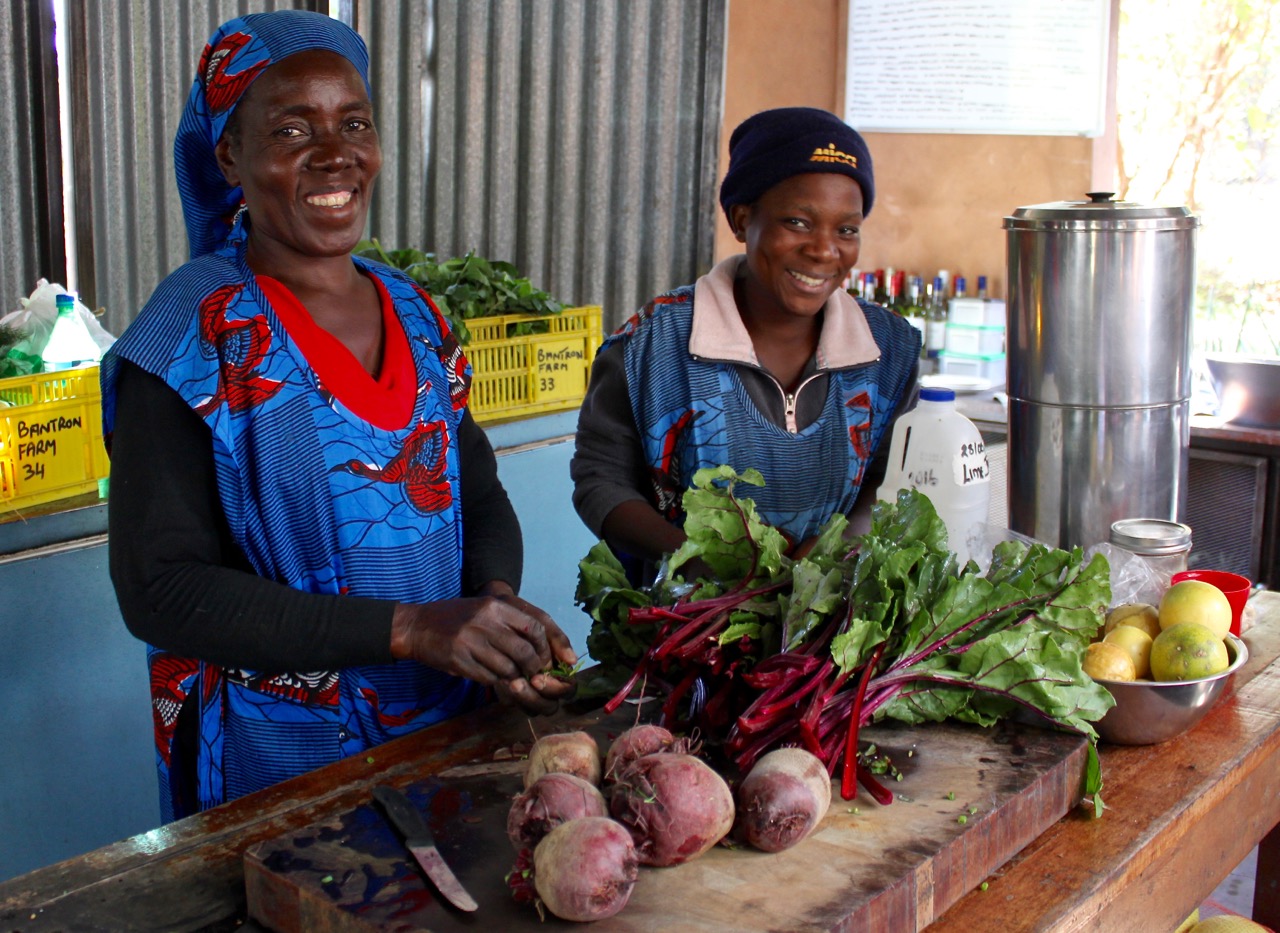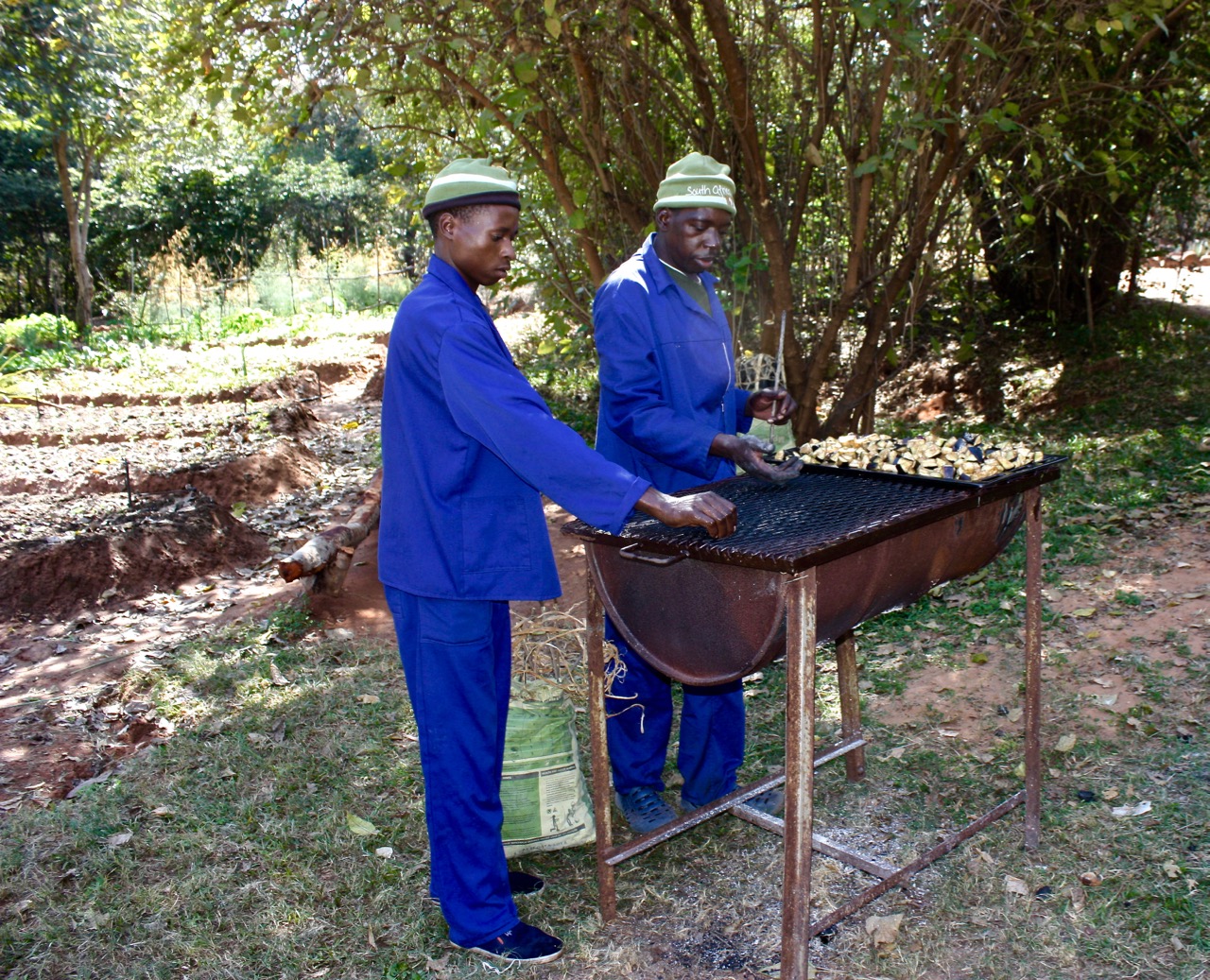 Our wedding day on July 1 was simple, a reflection of what we have become as a couple. Family-in-the-vicinity, friends-like-family, and close neighbors attended. There were only thirty-nine of us in total. Guests traveled to the farm from Zimbabwe, Lusaka, Choma, Ndola and Mkushi. We erected tents to house them all around our garden. My best-loved baker, my mother, carried two cakes — the Queen Mother's Favorite Cake, made with dates and caramel, and a Lemon Drizzle Cake — in her hand luggage from Harare. The rest of the food, prepared on-site by Adelina Banda and our kitchen and garden staff, was all local, and girlfriends congregated around the prepping tables on the day to help with last-minute requirements. The decorations for the table arrangements were taken from the bush, as they were for the adornments in our hair.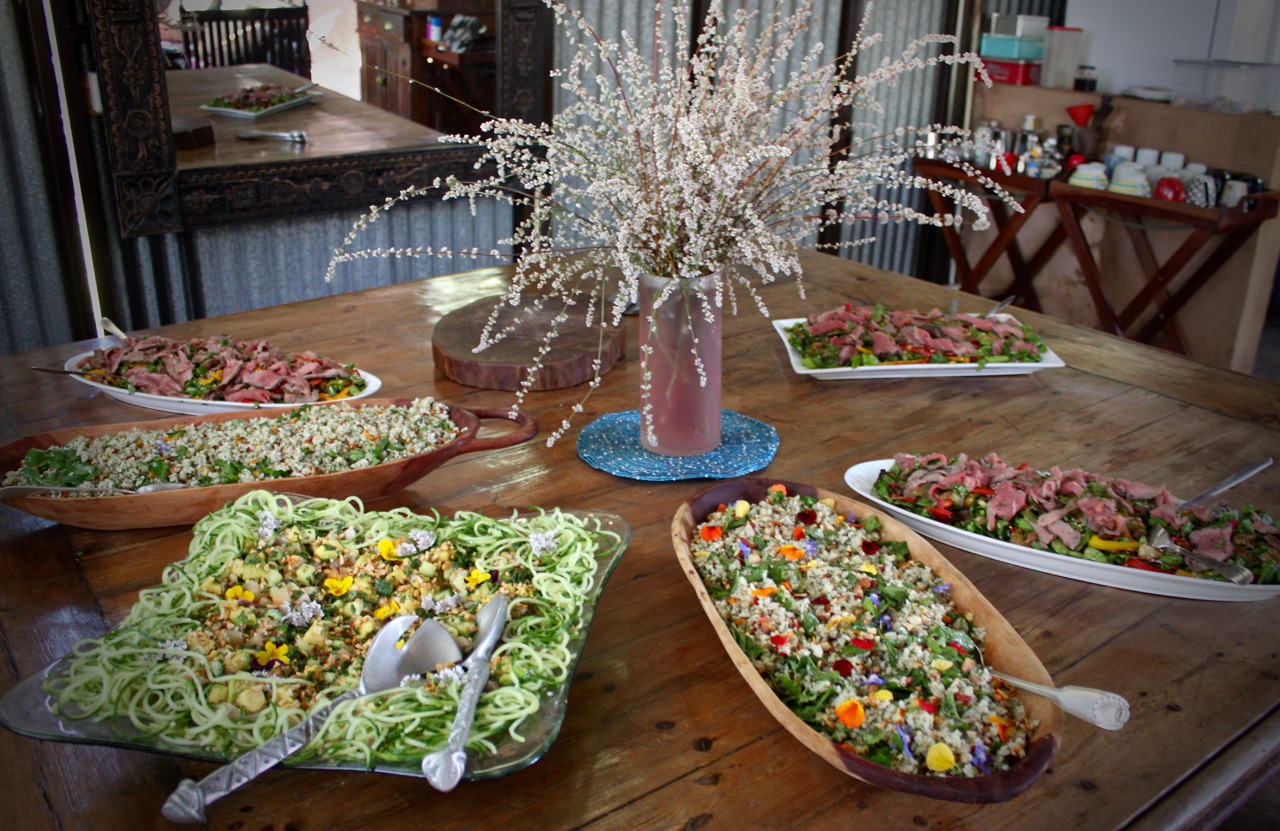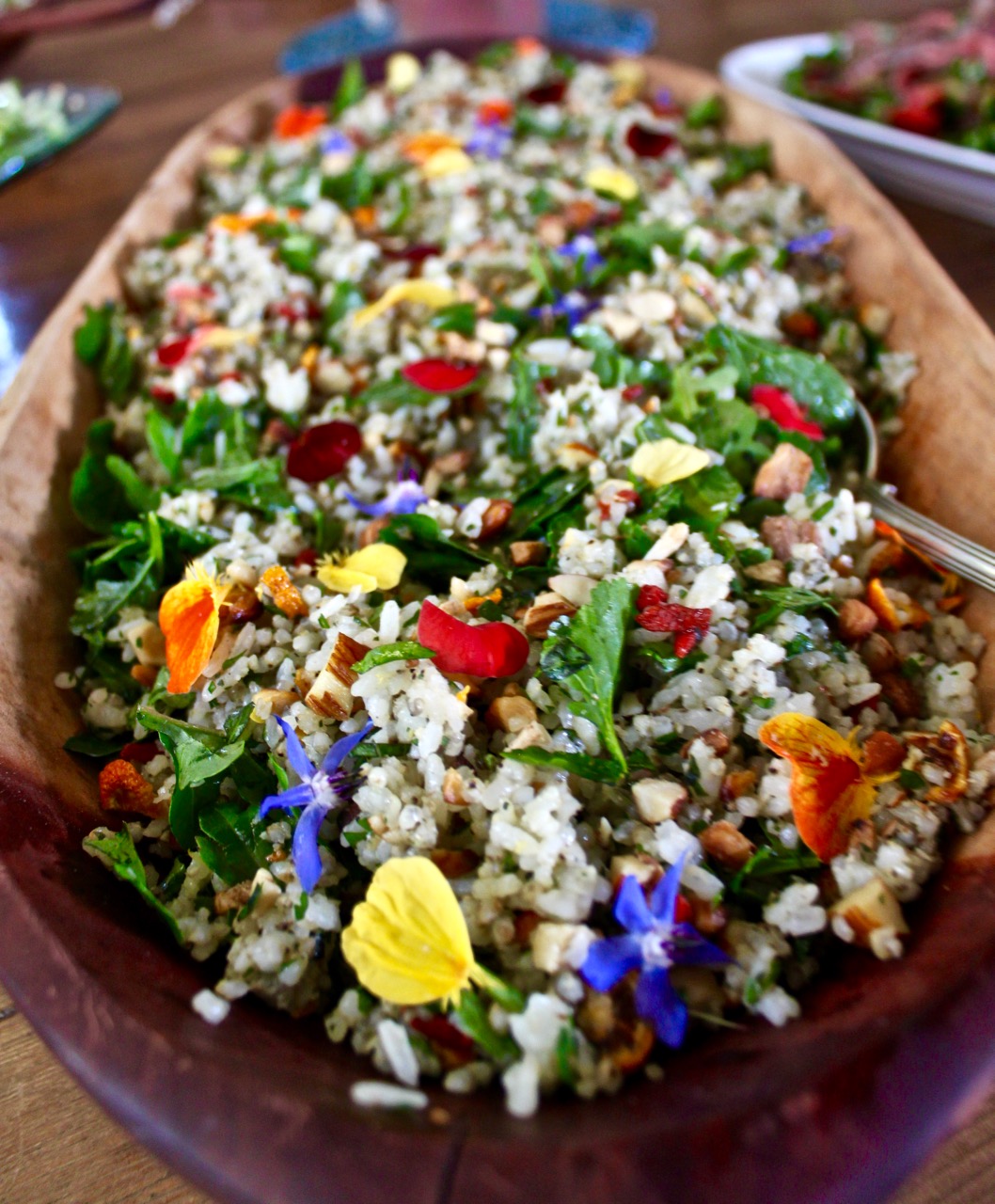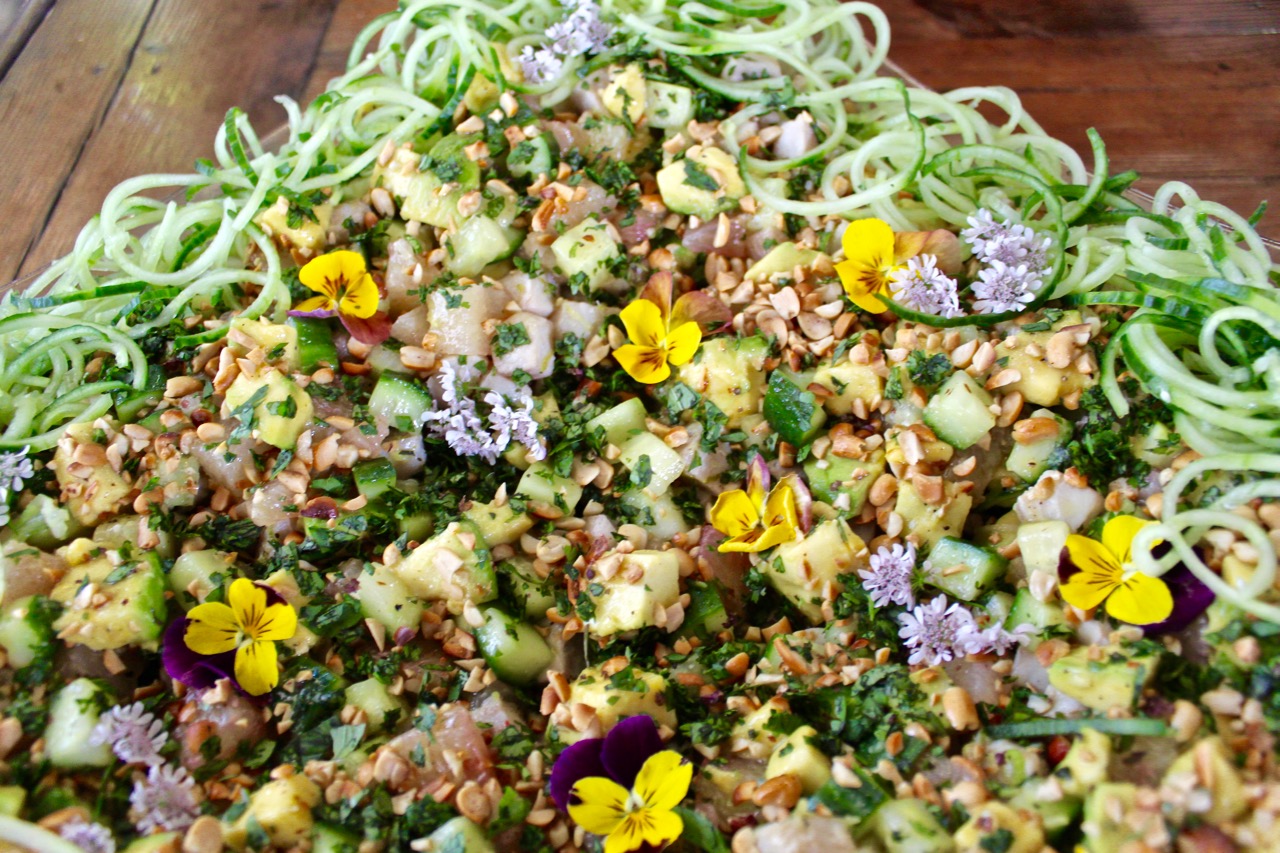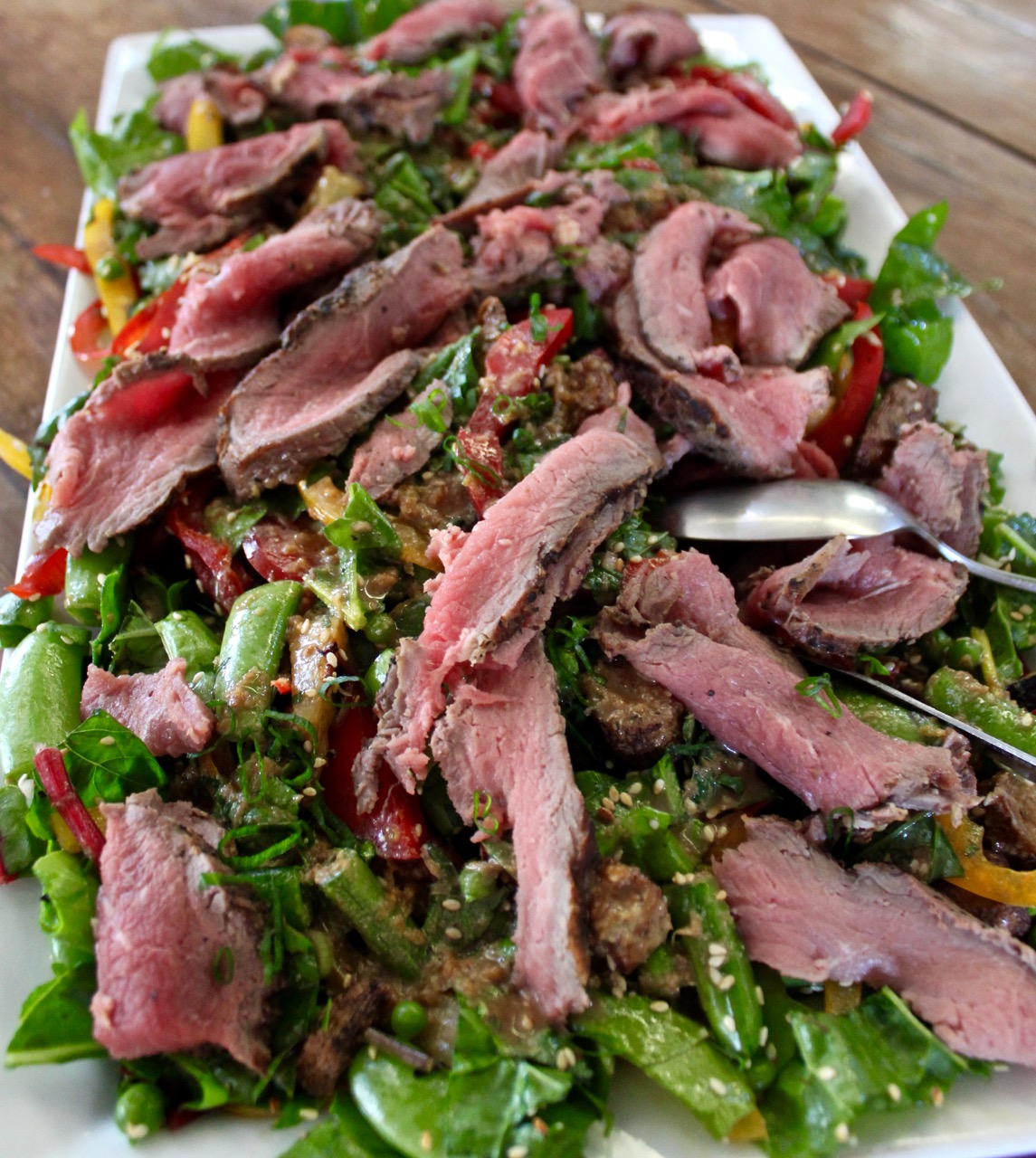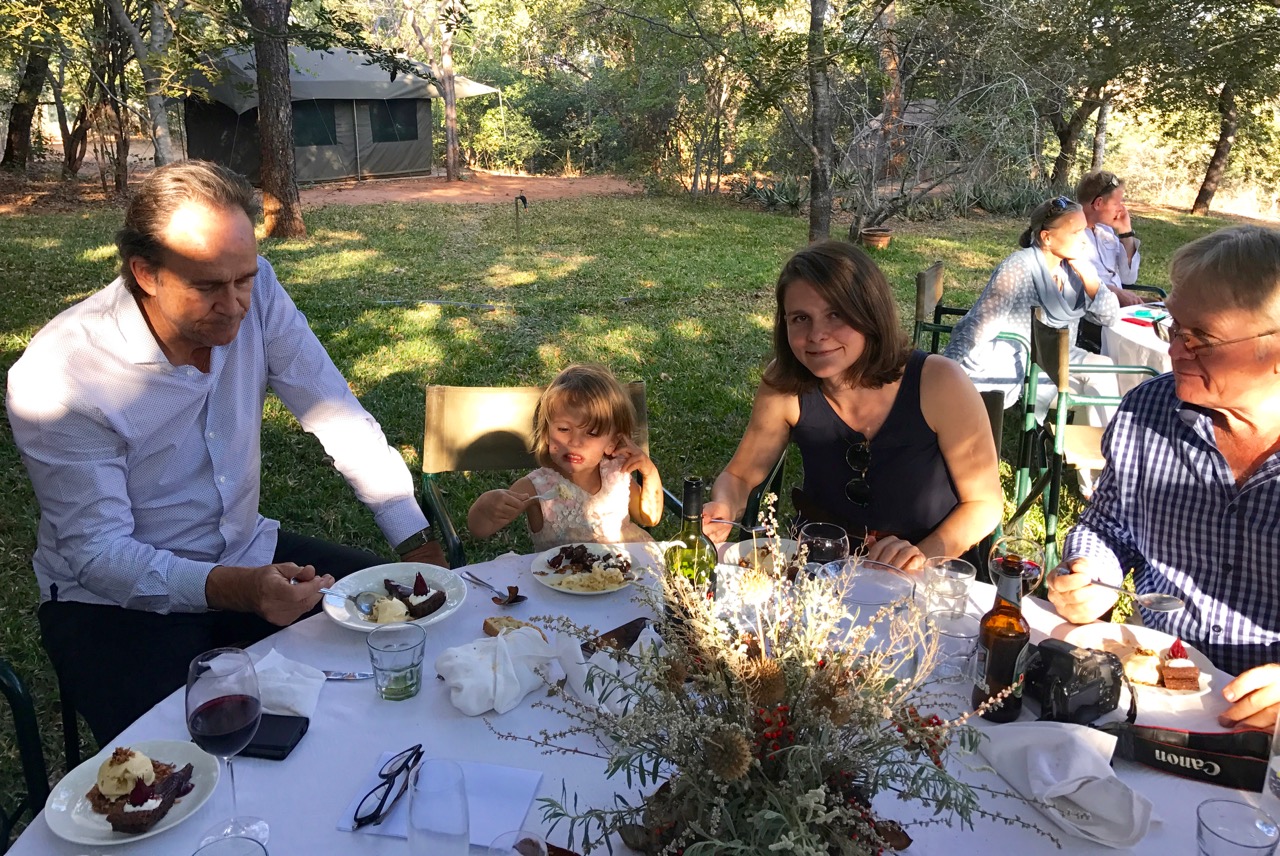 My younger brother, Paul, proposed a toast to Chris and me, while his daughter, Molly, wrote a poem and read it to us. Paul lost his wife, and Molly her mother, to cancer at almost the same time Chris and I moved in together in February, 2013. Chris's brother, Simon, and his daughter, Rebecca, spoke on his behalf, and friends took impromptu turns recounting stories from our past. The preschoolers from Taonga staged a short performance in celebration, while Chris and I were shadowed all day by Scarlett Gibson, the enchanting daughter of Ashleigh and Liam, whose mother, Jenny, is buried beneath a glade of trees nearby. Jenny was Chris's last partner, who, after also losing her farm in Zimbabwe, traveled with him to start again in Zambia, only to succumb to motor neuron disease five years later.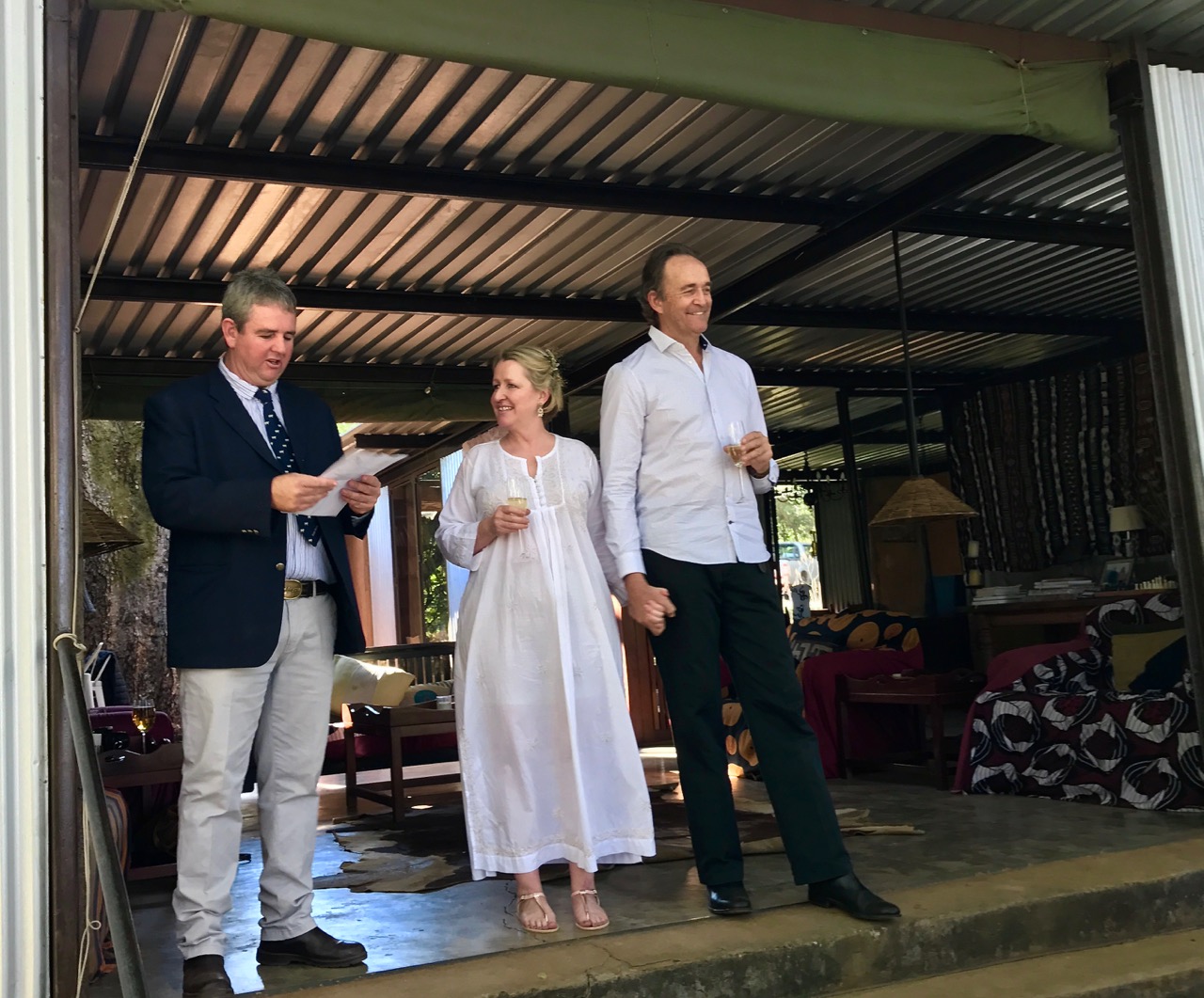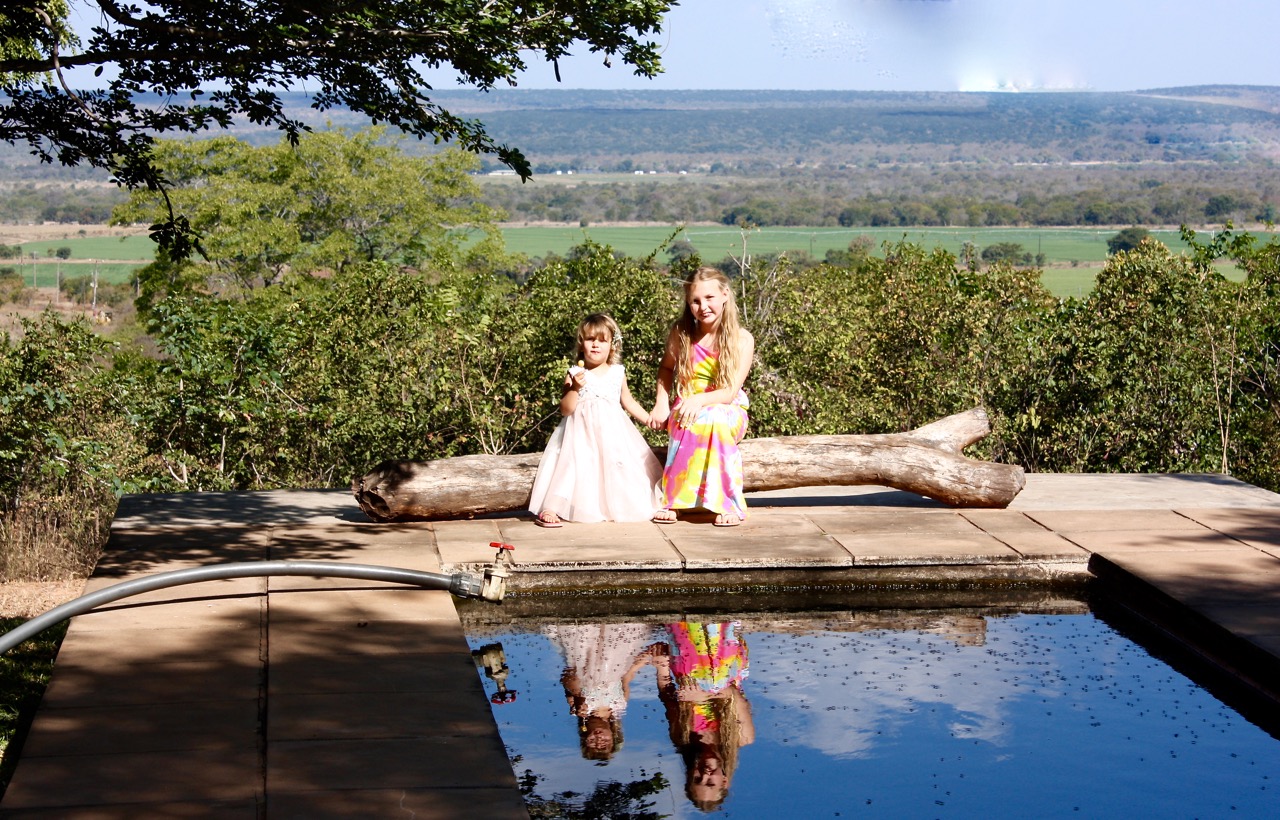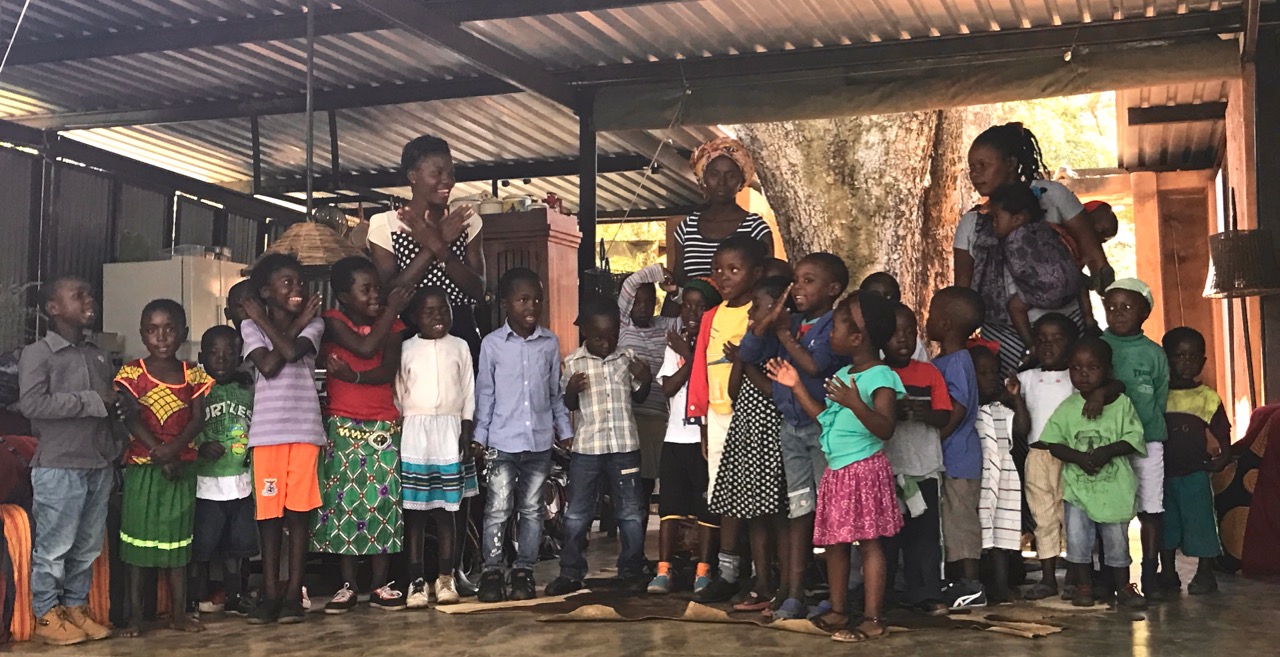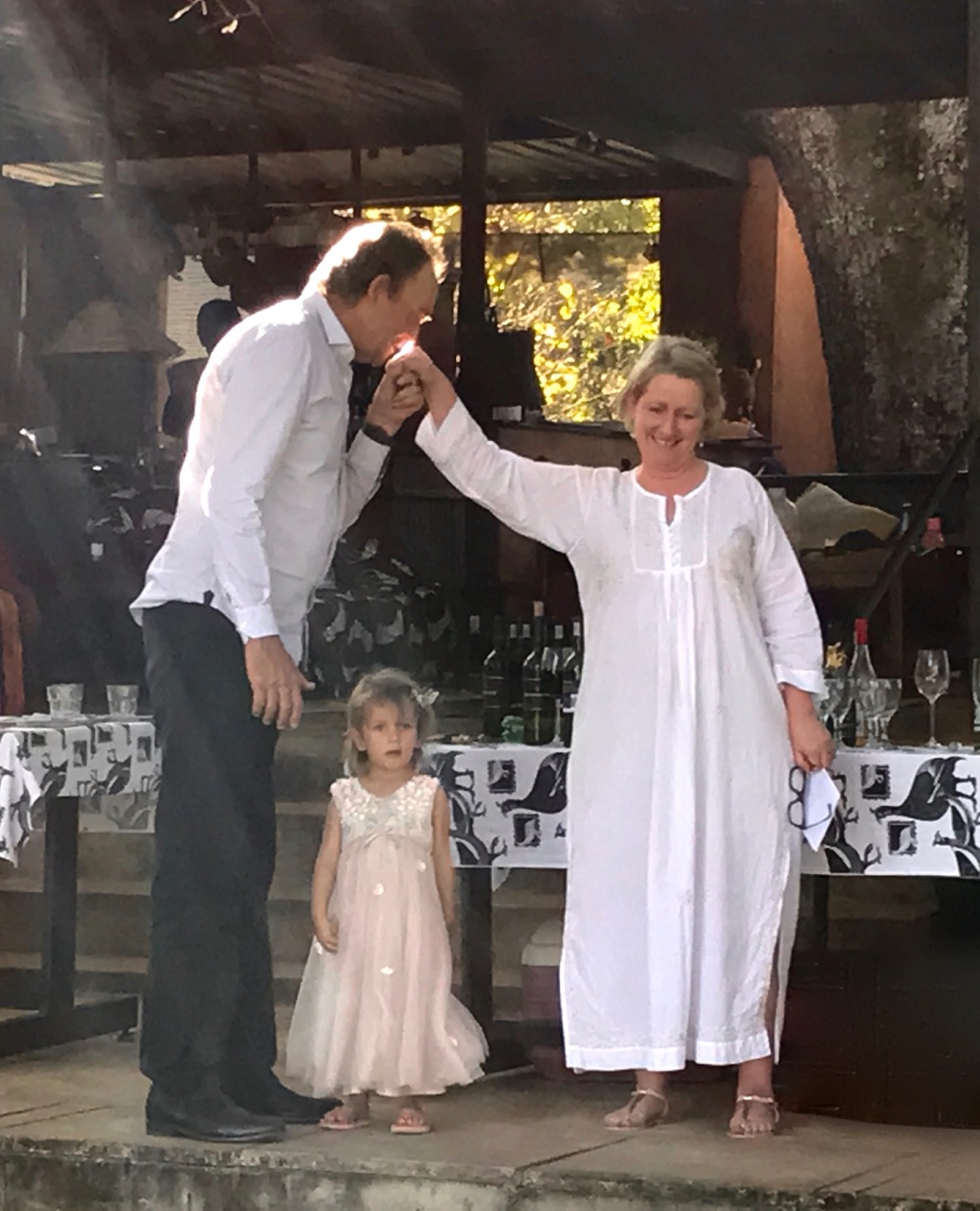 Chris and I are bound by the shared experiences of friendship, love, hurt and loss in both our pasts. Yet thirty years ago our connection was forged around words, as I once wrote about here. In honoring Chris at our wedding, I wanted to showcase this again. I found the following poem, written by Mindy Nettifee, to read to him. (My apologies to Mindy for localizing some of her references …)
Untitled
if a man is only as good as his word,
then I want to marry a man with a vocabulary like yours.
the way you say "augmenting" and "assuage" and "segue"
in the same sentence—
that really turns me on,
the way you describe the pineapples in the garden beyond
using "anarchistic" and "intimate" in the same breath.
i would follow the legato and staccato of your tongue
wrapping around your diction
until listening became more like dreaming
and dreaming became more like kissing you.
i want to jump off the cliff of your voice
into the suicide of your stream of consciousness.
i want to visit the place in your heart where the wrong words die.
i want to map it out with a dictionary and points of brilliant light
until it looks more like a star chart than a strategy for communication.
i want to see where your words are born.
i want to find a pattern in the astrology.
i want to memorize the scripts of your seductions.
i want to live in the long-winded epics of your disappointments,
in the haiku of your epiphanies.
i want to know all the names you've given your desires.
i want to find my name among them,
'cause there is nothing more wrecking-sexy than the right word.
i want to thank whoever told you there was no such thing as a synonym.
i want to throw a party for the heartbreak that turned you into a poet.
and if it is true that a man is only as good as his word
then, sweet jesus,
let me be there the first time you are speechless,
and all your explosive wisdom
becomes a burning ball of sun in your throat,
and all you can bring yourself to utter is, oh god,
oh god….